no technical knowledge needed
Your new competitive edge: adding interactive live sessions to your concepts and campaigns
New: Stand out as a creative innovator with interactive livestreaming.
Your clients want engaging content that helps them stand out from the crowd. You're an expert at creating those experiences. Especially with interactive livestreaming, the perfect addition to your marketing and content strategy toolkit. Let us show you why.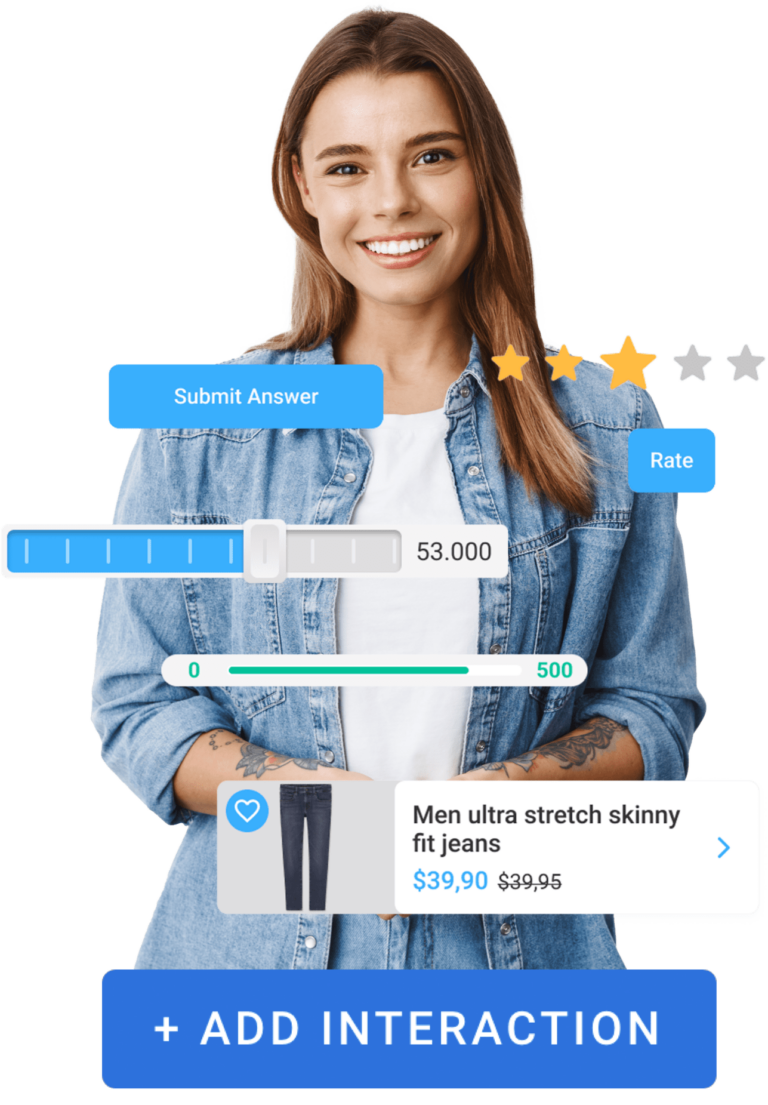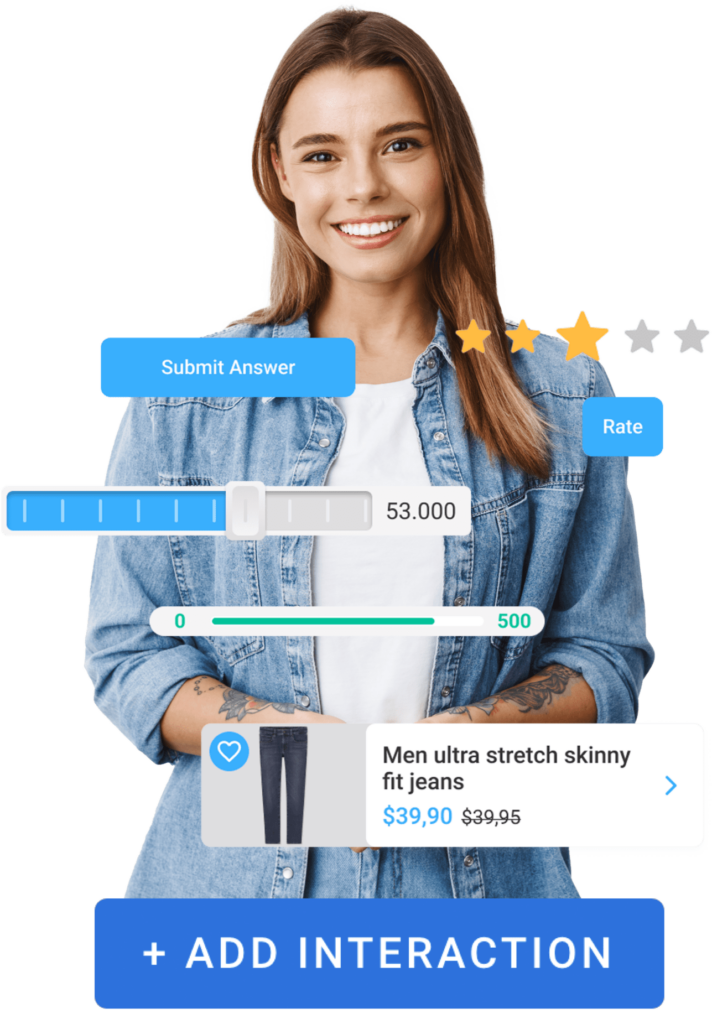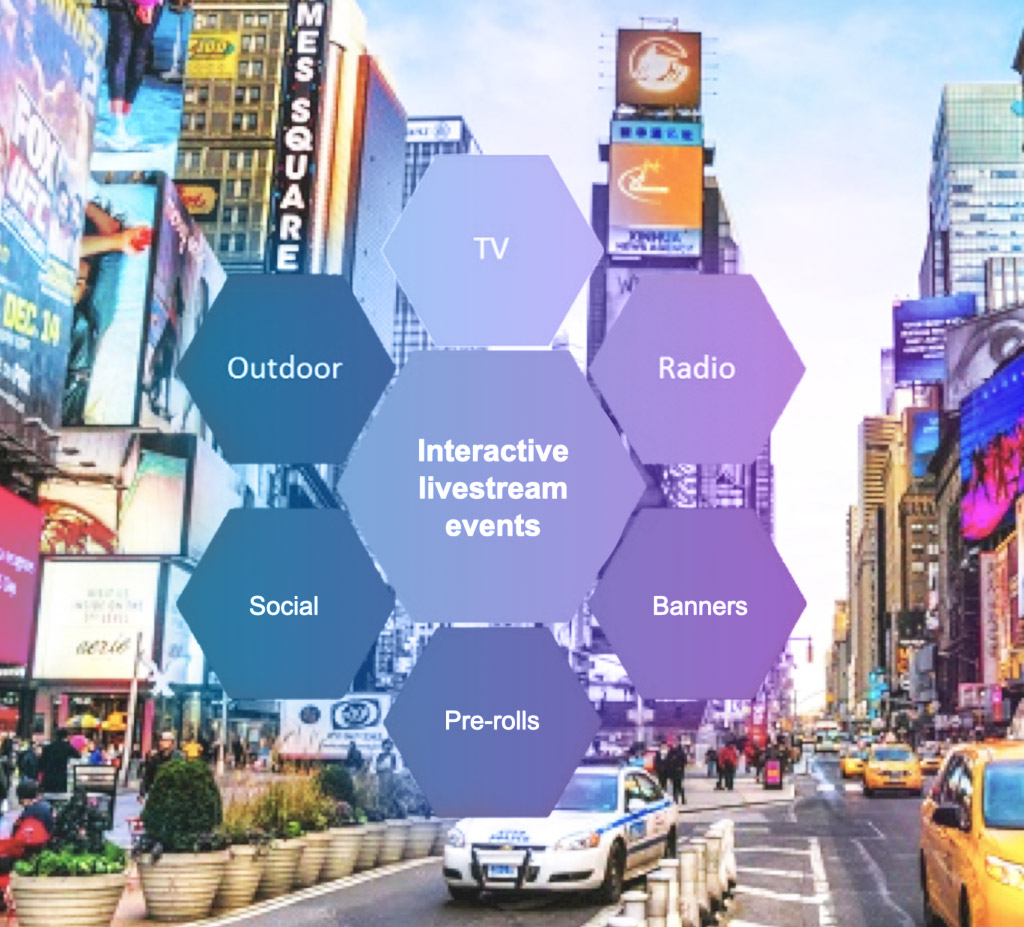 Create unforgettable experiences
An innovative addition to your campaign assets
Next to posters, TVC's, banners, social and content marketing, you now have a new asset in your toolbox: The interactive online live event. 
Be it a quiz show for a brands customers, a livestreamed VIP meet, a weekly fan sessions for customers, an interactive meetup, etc. Create a community, a movement for the good, or to get conversions of up to 30%… 
Add this new and engaging customer touchpoint to your concept presentations!
Easy to use, end-to-end & affordable
Livery is your agency's secret weapon
We believe that interactive livestreaming shouldn't be complicated or expensive. Everything you need for a high-quality interactive livestream is waiting for you, ready to use out of the box.
With our set of interactive features, you can create the ultimate brand experience for any client. Without any programming or technical difficulties and starting at just €450 per month. Why pay more for less?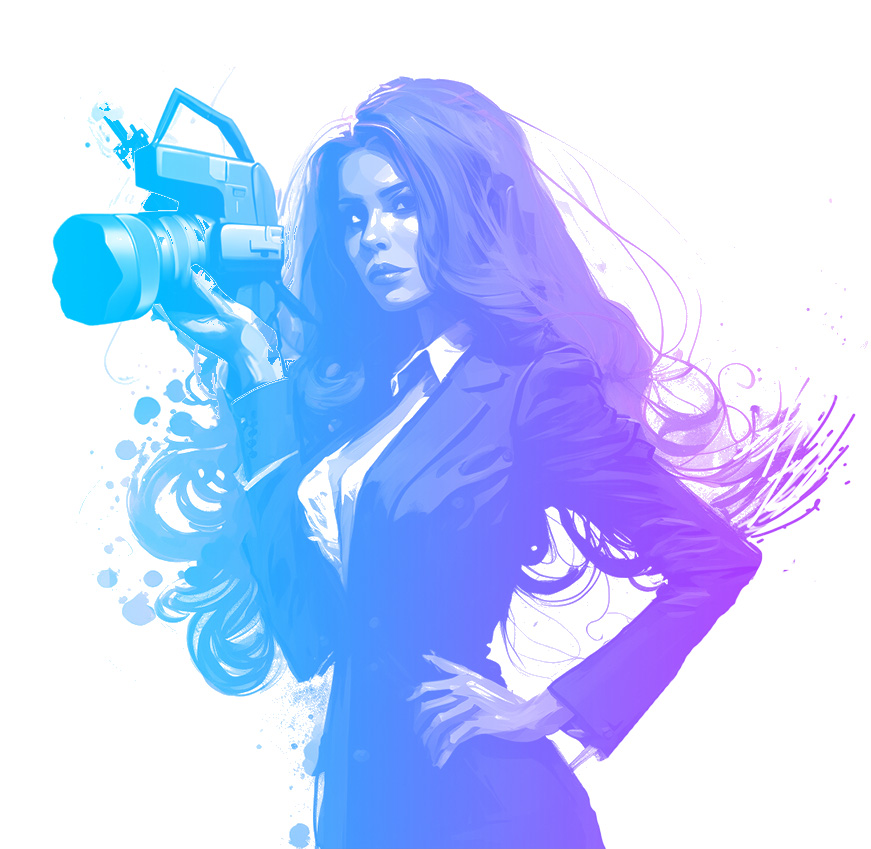 Create the ultimate brand experience
With our extensive set of interactive features, your clients will thank you as they engage directly with viewers, sell products, get rich and useful customer data, and more.
Every brand has a story to tell, and there's no better way to do it than with an interactive live event. You can create a stunning live show & show off your campaign's success with robust analytics and data from the interactive moments. 
With interactive livestreaming, your content creates easily provable value and an income stream. And data from the interactive elements can enrich user profiles for further marketing campaigns. P.S. – All collected data is yours to keep, not ours.
Scale to audiences of any size anywhere in the world
Scale from 100 participants to a million. No matter how big the audience is, the stream will hold strong. Wherever your viewers are in the world.
Say goodbye to the algorithms
You spend hours making content, only to have the algorithm hide it from your audience. You are not depending on the algorithm to show your work, just  Make sure people see the work you do. 
Create a custom look that fits your client's brand
Customize the stream interface to match the brand, or keep it simple to let the content shine.

How a makeup brand benefits from interactive live sessions
Your creativity is the only limit to the possibilities, but to get those creative juices flowing, let's paint the picture with an example of what your creative agency can do with Livery.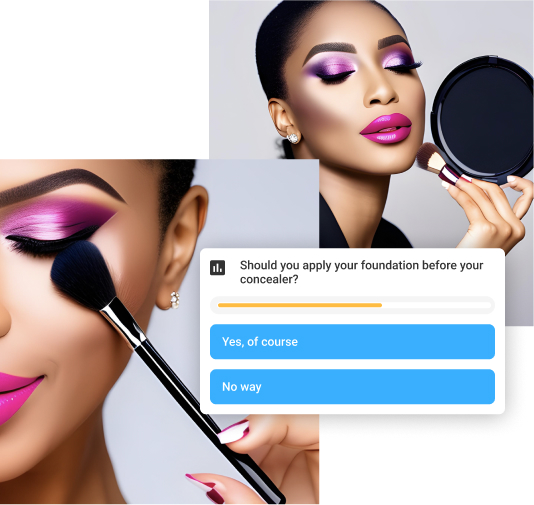 Imagine your client is a makeup brand that has partnered with a popular beauty influencer (that is also the model of the campaign) for a product launch event. With Livery's interactive livestreaming capabilities, you can create an engaging and interactive launch event experience that will leave a lasting impression on viewers.
You could host a "get ready with me" where the influencer demonstrates how to use the new makeup products and shares tips and tricks with the audience. Thus creating a cohesive and fully immersive experience that reflects the brand's identity. 
Throughout the livestream, viewers can interact by participating in polls and quizzes, asking questions directly, and even purchasing the products in real time without leaving the livestream.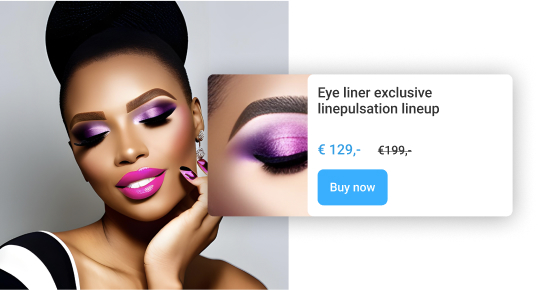 As the event progresses, the audience feels they're part of the brand, event, and conversation, creating a sense of community and connection with the brand.
Livery's real-time analytics will provide valuable insights into audience engagement, allowing you to tailor the content to their preferences and make data-driven decisions to maximize ROI while you're still live on air.
After the event, you can segment the audience for future purchases and content using all the personalized data you collected.
And if it is a success, why not do it every month?
Trusted by customers worldwide
Ways to use interactive live sessions for your clients
Highly engaged viewers are more likely to watch your live content all the way through, interact with the brand, make a purchase, and return for the next event. Livery includes a wealth of ways to engage your audience and energize your livestream to reach maximum revenue potential.
With our out-of-the-box interaction suite, you can craft a live show that will have your clients and their customers begging for more. Here are some ways you can use it: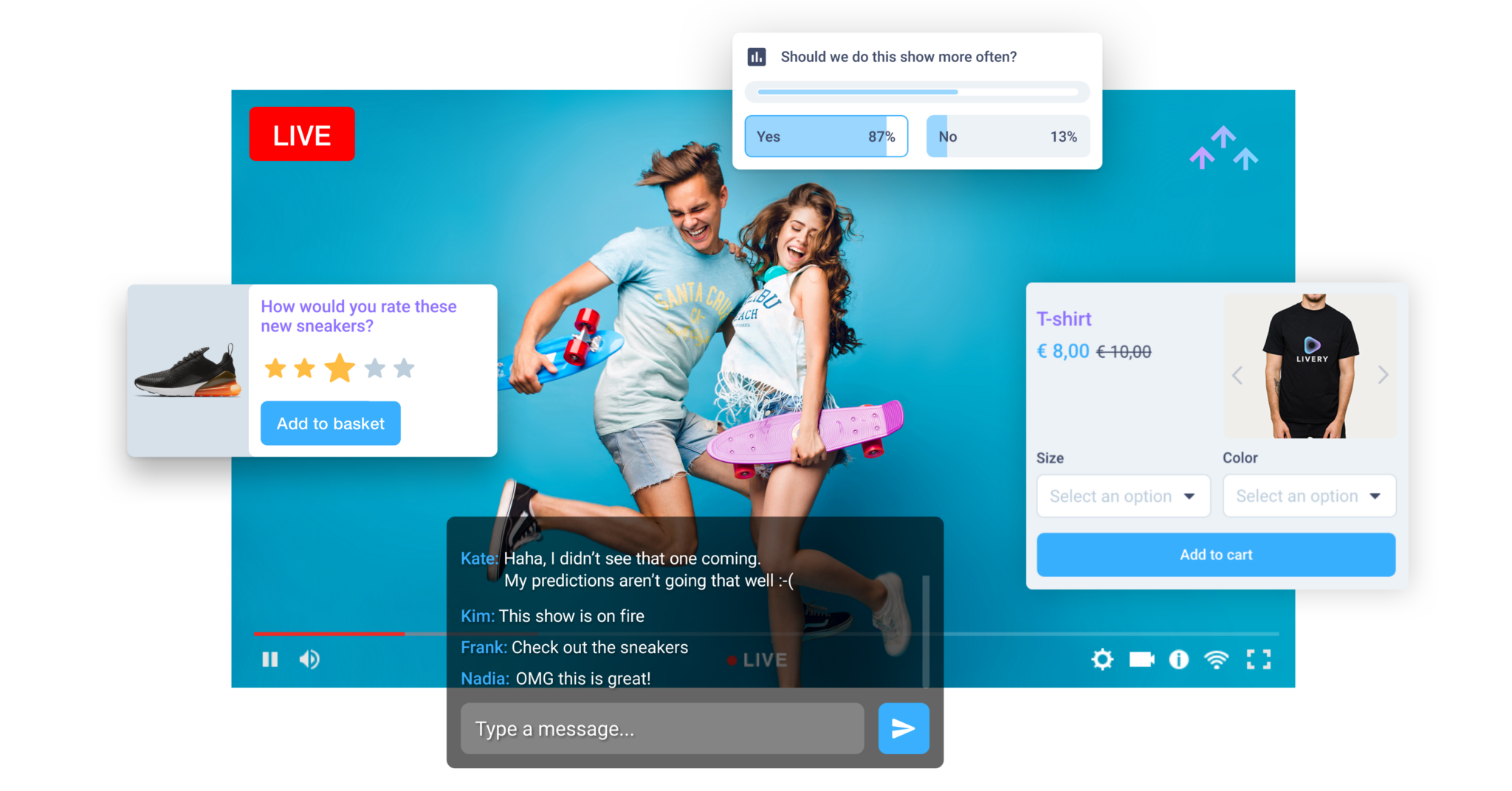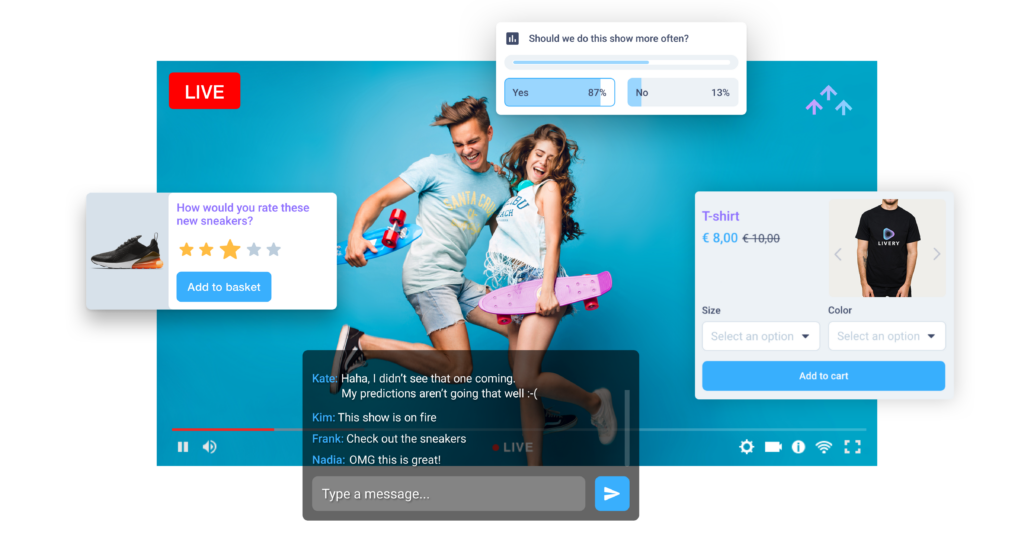 Host a virtual product launch with interactive demos and product features

Showcase a brand's story with live interviews and behind-the-scenes tours

Host flash exclusive flash sales for your most loyal customers

Collaborate with influencers or celebrities for Q&As and live performances

Host an e-learning series that teaches your customers about how/why they should use your product

Create a branded game show or quiz with real-time polling and audience participation

Offer a live interactive workshop or class with industry experts

Sell tickets or merchandise directly through the livestream
Great quality, low latency & scalable
The video and sound quality are better than Zoom and Teams and are crucial for your interactive live event. Our ultra-low latency livestream supports iOS, Android & web apps, syncs over all devices, scales to hundreds of thousands of concurrent users, and comes at no additional cost compared to regular latency streaming.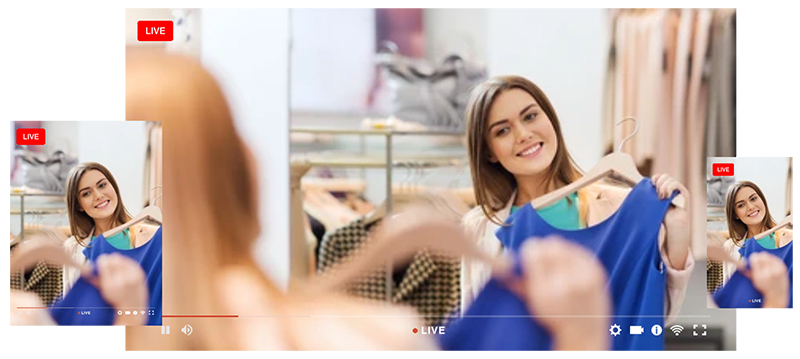 Are you ready to add a powerhouse to your content toolkit?
CONCEPTS & CASES CATALOGUE
Want to become a Livery partner?
Let's make magic together!
Want to add Livery to your client toolkit as a white label service? 
Look into becoming a Livery partner.