About Livery:
We make
live video & interaction
work
We make it work, you make it magic
Livery is a tech team on a mission. Based in Amsterdam, we provide our clients with an easy-to-use end-to-end solution for interactive livestreaming. We have reduced latency to a minimum, resulting in a synchronized, reliable, and scalable solution.
If all of that went over your head, don't worry. The technical details are our job – you make the magic, we'll make it work.
Beyond functionality, we take it to the next level. We're pioneers in the industry with innovative interactions that exceed the industry standard. And we can stay ahead because the best creative features need our live video specialty: ultra-low latency. In non-tech terms, this means we've reduced video latency time so that neither you nor your viewers will really notice it. With this functionality, just about any type of real-time interactivity is possible. Now it is up to you to make it magic.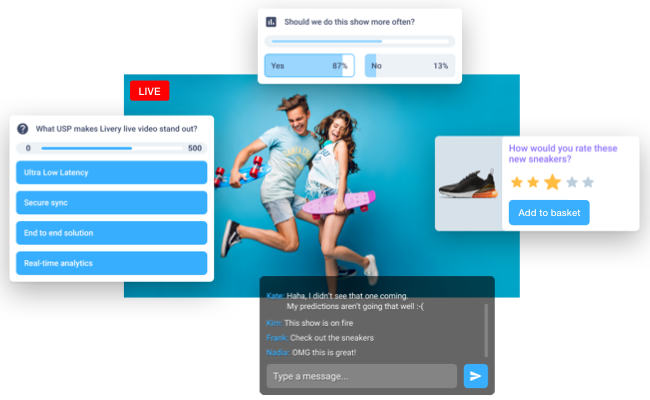 With our experience in live interaction at scale, our ambitious team is focused on the next generation of interactive live content. We are innovating on the frontier of synced low latency live video.
Livery HQ is located on the bank of the IJ River in a beautifully renovated old shipyard canteen within Amsterdam's creative media district. It is easily accessible by public transit, bike, or car.
Amsterdam routinely ranks among the world's best cities for quality of life. The city has found a healthy balance between the hustle and bustle of urban life and recreation and leisure.
Local team members currently have the option to work from home, and we are open to remote work applications from anywhere in the world. Our internal communications and development processes also support the ability to work flexible hours.