The next generation of interactive live streaming
Livery is the most versatile, affordable, and powerful way to engage your audience with live video, sound, and interactivity. Enjoy worry-free low latency, synchronization, and interactive video without breaking the bank. 
Captivate, entertain, and educate your audience
Boost your sales with our interactive e-commerce features
Reach millions with unmatched scalability
End-to-end solution: one package that's easy to use
An interactive livestream only works in real time—people can't engage with something they saw 30 seconds ago. That's why our ultra-low latency video is about as close to real time as it gets. Less than 3 seconds of delay from your camera to your viewer's screen, no matter where they are. 
We've built an end-to-end solution that automatically synchronizes to ensure that every user sees the same video frame at the same time. Regardless of where they are, what device they use, or how fast their internet connection is.
Add shopping, polls, chats and quizes to your live video
A small selection of our available interactions:
Core interactions
Communication
Commerce
Gamification
Core interactions
Powerful interactions, straight from the box. Place them on the timeline of the web-based management system and you are good to go.
Build excitement by counting down the time remaining before the broadcast.
Capture attention with a custom pop-up announcement or update.
Get real-time feedback through the ratings widget. The presenter will receive the results in real time.
Gather and weigh opinions through the poll widget (up to 4 potential answers). The presenter will receive the results in real-time.
Let your audience play along in real-time with the multiple-choice questions or trivia widget (2 to 4 options).
Make live decisions with your viewers through the voting widget (up to 4 choices).
Let your audience react throughout the broadcast with live reaction emojis. Once clicked, the emojis will float over the video stream.
Communication
Commerce
Gamification
Hepsiburada live shopping
The Turkish e-commerce market leader, Hepsiburada (which translates to "everything is here") used Livery Video & interactions to create an online shopping channel.
Through Livery Video, Hepsiburada conducts their frequent live shows where they review and promote technology, cosmetics, toys, and more to thousands of engaged viewers.
While enjoying the show, viewers can purchase the promoted products directly within the video stream. Thanks to Livery's syncing technology, the video and interactions stay in near-perfect timing–no matter how heavily shoppers interact with the video, they won't miss a thing.
Once the show has ended, all on-stream data is Hepsiburada's to keep and analyze, giving them an opportunity to learn and adapt to their shoppers over time.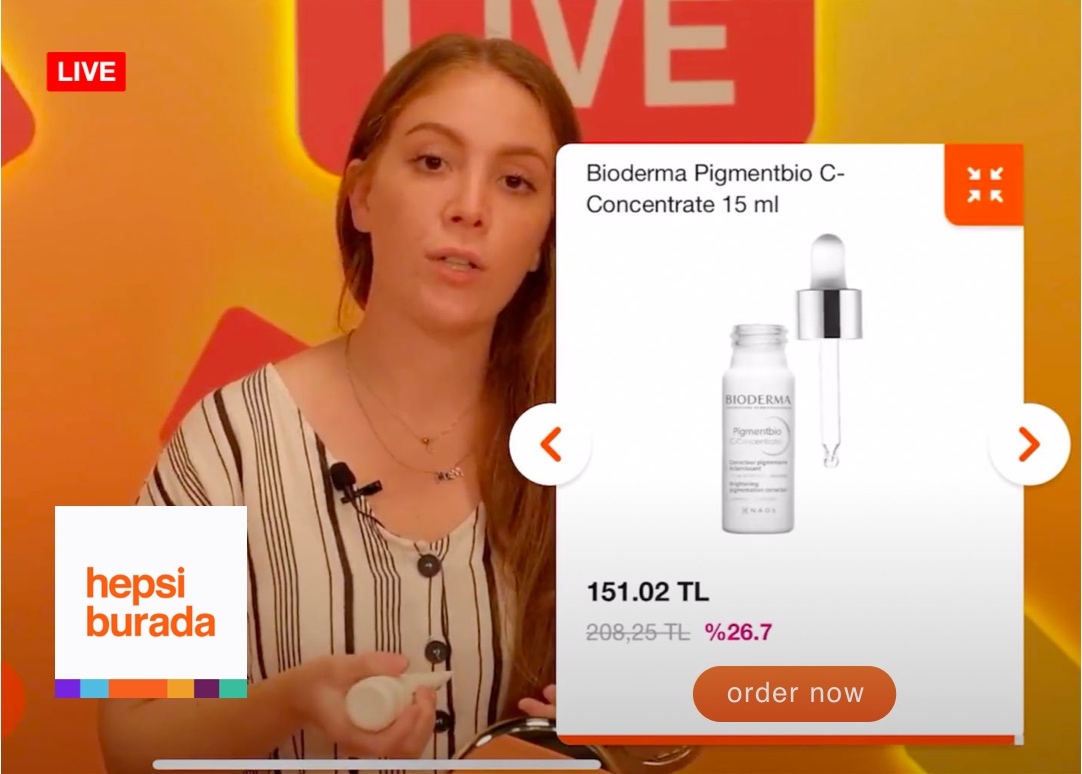 We've created a platform that lets you plan and host livestream video events that are 100% yours. Customize branding, add your favorite widgets, and keep your audience and customer data where it belongs – with YOU, not the platform.