Broadcasting your stories, live and Interactive
Are you a media and broadcasting organization looking to enhance and monetize the connection you have with your audience? It's time to think outside the box, and interactive livestreaming is the ideal complement to your content strategy arsenal. Allow us to demonstrate the reasons behind this choice.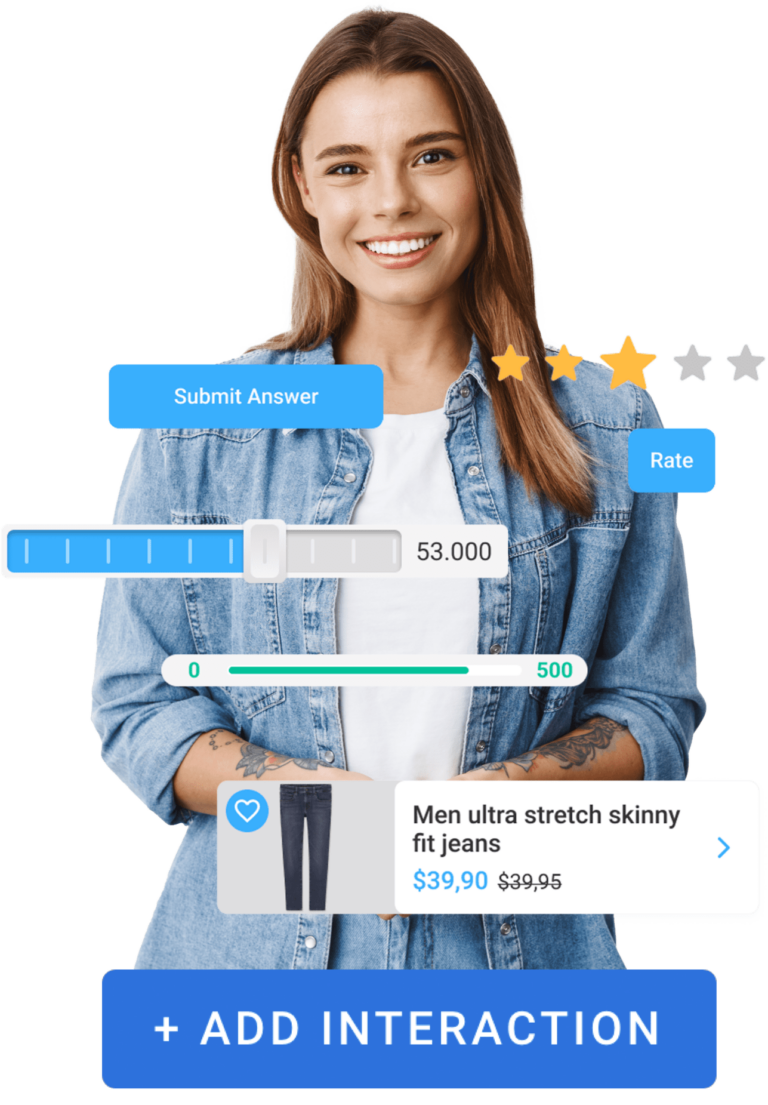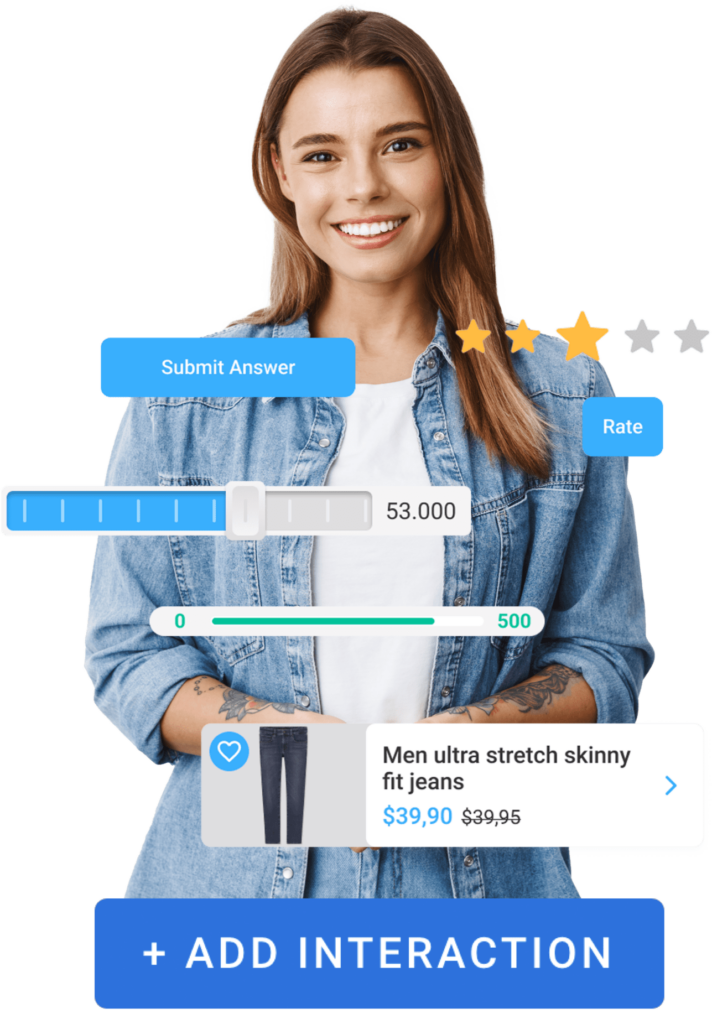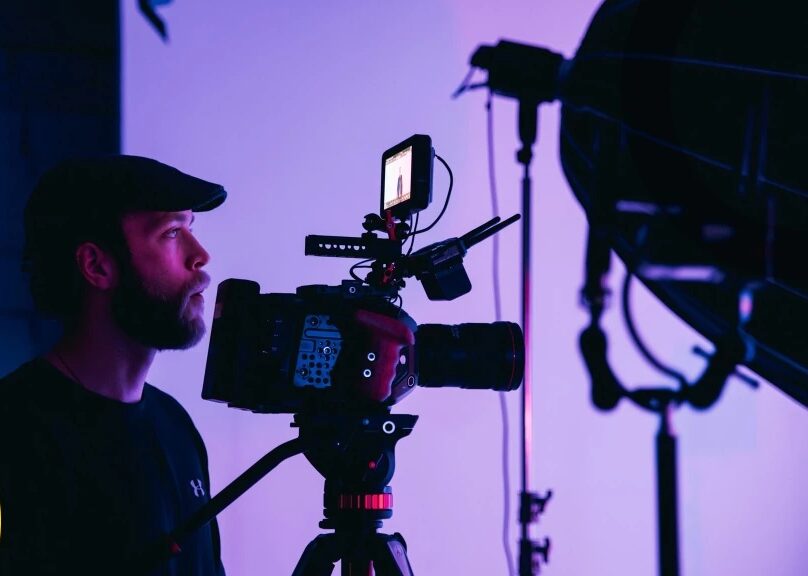 Create unforgettable experiences
Media broadcasters & live interactive video events: a perfect match for growth
Incorporating live interactive video productions into your broadcasting operations opens up exciting opportunities to enhance and expand your business. Recent advancements have significantly reduced costs and complexities, making it an ideal time to explore the commercial potential.
So stop waiting, start with big, profitable, entertaining, engaging, converting and data gathering interactive live events today!
Interactive Live Streaming
Make every broadcast even more entertaining and engaging
How to turn viewers into value
1 - Entertain
As a broadcaster, you are an expert in entertaining and capturing viewers attention.
I N V O L V E
2 - Engage & activate
Activate & engage viewers even more with interactivity throughout the event
E N G A G E
3 - Convert & data
Create value with live shopping, gather user data and increase user registrations
S E L L
Maximize your revenue with in-stream monetization options
Let viewers shop merchandise, promote advertisers, access exclusive subscriber-only content, or buy tickets to events without disrupting the viewer experience.
Reach viewers locally, nationwide, or across the globe
Expand your reach and target new audiences: make your content available to people all around the world. Wherever your viewers are, Livery can reach them with ease and consistent quality.
Attract new viewers and hold their attention
Active viewers are the future of live content. Create live shows that hold attention unlike anything else, with dozens of interaction options
Offer an unforgettable experience with 100% ownership rights
You own your audience and data (as it should be).
Scale to audiences of any size with ease
Seamlessly scale from 100 participants to a million, the stream will hold strong.
Valuable audience insights and data
Interactive livestreams provides valuable insights into your audiences' behaviour and preferences, which can be used to tailor content and make data-driven decisions. 
What can you do with Livery?
While your creativity is truly the only limit to the possibilities, let's paint the picture with an example of what broadcasters can do with Livery.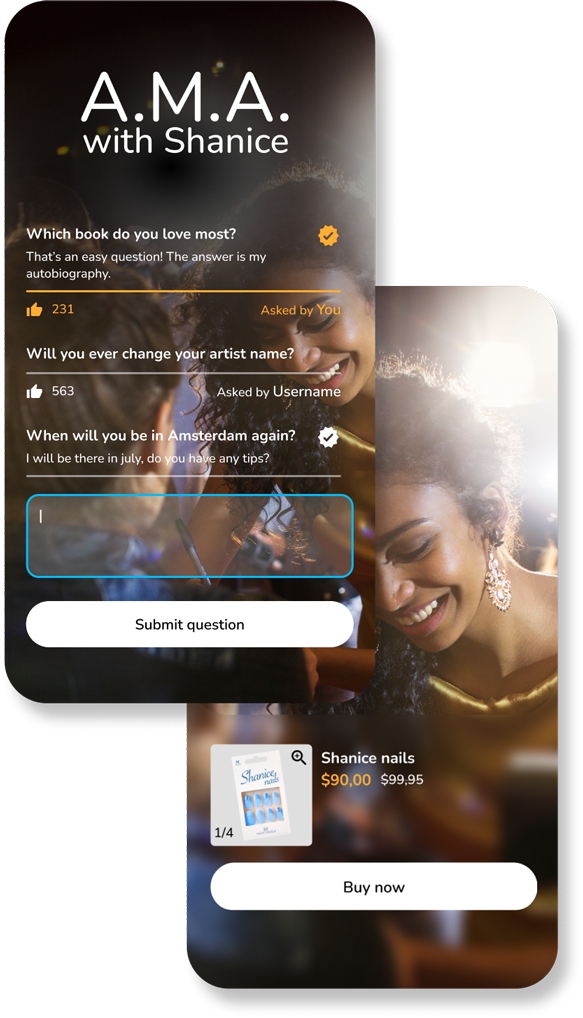 Inspiration for a live-streamed Superfan event
Imagine taking fan engagement to unprecedented heights. Imagine fans  immersing themselves in the world of their superstar, interact directly, access exclusive content, and enjoy one-of-a-kind merchandise.
Offer live behind the scenes interactive streams, pre- and post-show specials, which runs fully parallel to the live broadcast as a second stream. 
Throughout the stream, fans can interact with their superstar through "Ask Me Anything" sessions and virtual meet-and-greets. You can foster a vibrant community: encourage discussions, challenges, and connections among like-minded fans.
Create a seamless shopping experience, where limited-edition merchandise and collectibles can be purchased exclusively for Superfan members. Or create even more engagement by hosting a quiz with great prizes.
Decide who can access the livestream; subscribers only, exclusive invited fans, everyone who bought an album or do you want people to register for the event (creating viewer profiles with interesting data for advertisers). 
Livery's real-time analytics will provide valuable insights into audience engagement, allowing you to tailor the content to their preferences and make data-driven decisions to maximize ROI while you're still live on air.
Trusted by customers worldwide
Impressive out-of-the-box features
Highly engaged viewers are more likely to watch your live content all the way through, interact with a sponsor, make a purchase, and return for the next event. Livery includes a wealth of ways to engage your audience and energize your livestream to reach maximum revenue potential.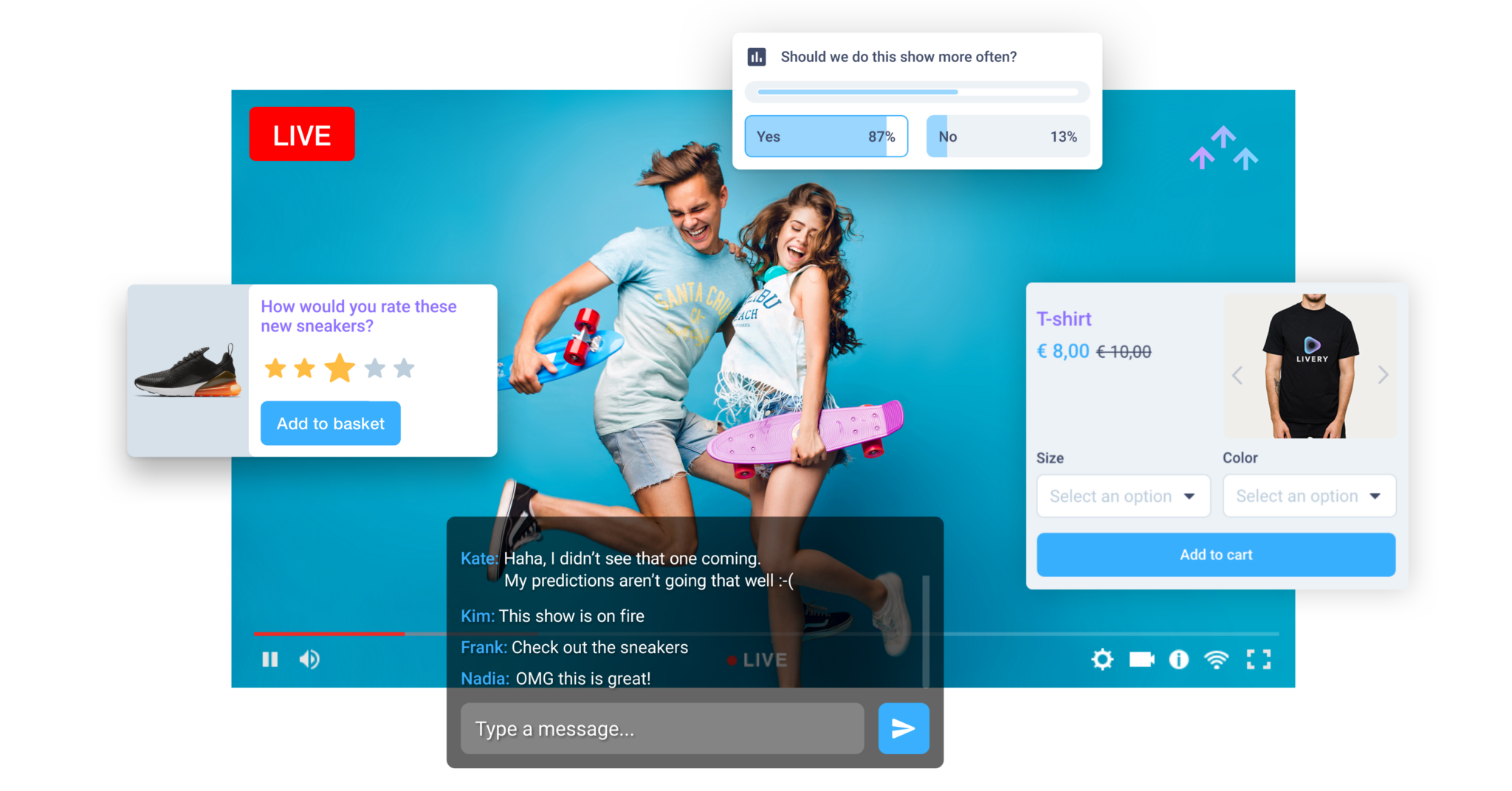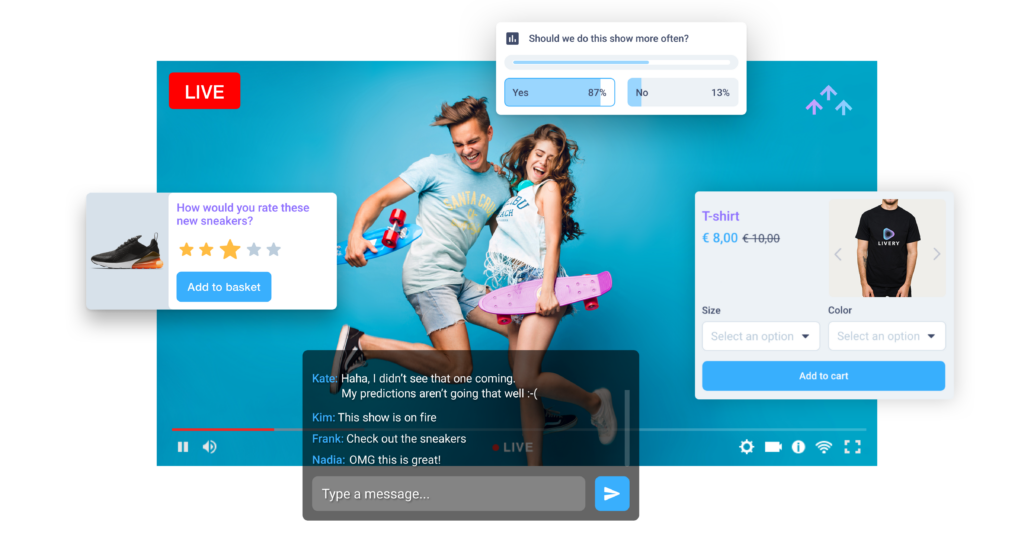 With our out-of-the-box interaction suite, you can craft a live show that will have sponsors and advertisers begging for screen time with no additional effort or upfront cost. Here are some ways you can use it:
Offer a QVC-style shopping experience for advertisers and local vendors.
Sell tickets, merchandise, or anything else you can think of.
Enable/disable comments as you see fit.
Add context through pictures and text overlays.
Host live interactive lessons with local chefs, politicians, or retailers.
Allow experts to answer Q&As.
Create an interactive live trivia show.
Great quality, low latency & scalability
We believe that interactive livestreaming shouldn't be complicated or expensive, therefore we build our easy-to-use and end-to-end streaming solution.
Using Livery, the video and sound quality are better than Zoom and Teams and that's crucial for your interactive live event. Our ultra-low latency livestream supports iOS, Android & web apps, syncs over all devices, scales to hundreds of thousands of concurrent users, and comes at no additional cost compared to regular latency streaming.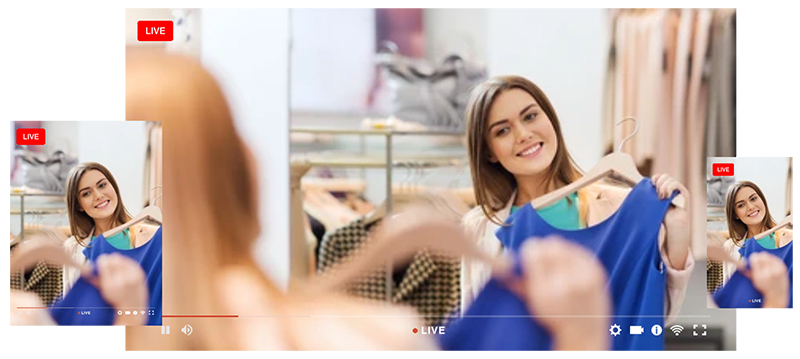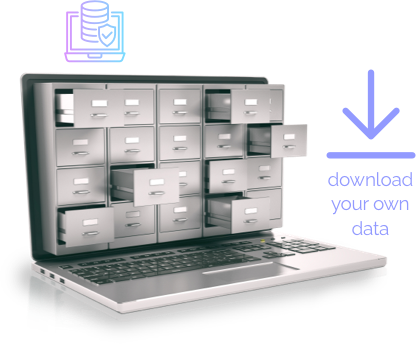 Your data is yours to keep
When you use a free streaming service, the data you collect is theirs to keep, use, and sell at their discretion. We built Livery on the principle that you should own the data you collect, not a third-party tech company.
Whether you are interested in a high-level overview, or if you want to take a deep analysis of your viewers, Livery gives you the tools to do everything with the data you've collected.
CONCEPTS & CASES CATALOGUE
GDPR/CCPA compliance: safe & secure
We take privacy and data protection very seriously. That's why we are fully compliant with the General Data Protection Regulation (GDPR) and the California Consumer Privacy Act (CCPA).
All personal data collected, stored, and processed through Livery is handled in a secure and transparent manner. With Livery, you can rest assured that both your and your viewer's personal data will remain protected before, during, and long after your stream.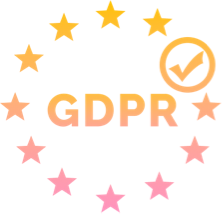 Are you ready to capture your audience with live & interactive engagement?