Telling your stories, live and interactive
Are you a media and publishing organization seeking to strengthen and monetize the relationship you have with your viewers and readers? It's time to get creative, and interactive livestreaming is the perfect addition to your content strategy toolkit. Let us show you why.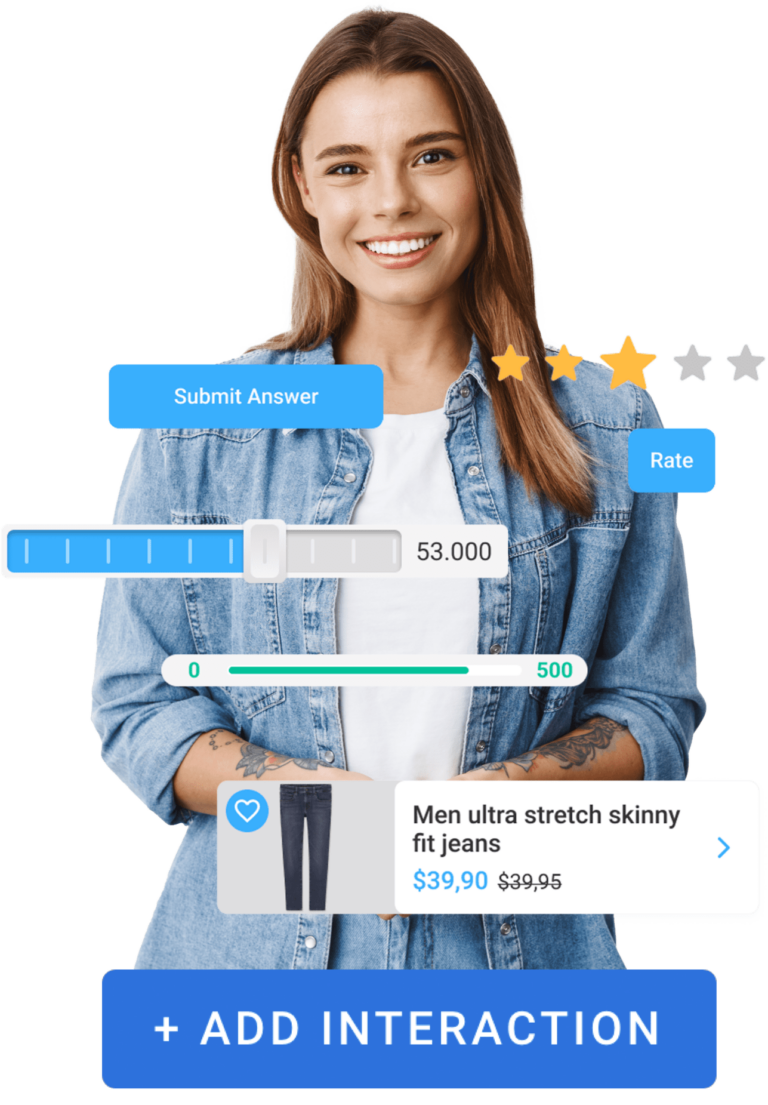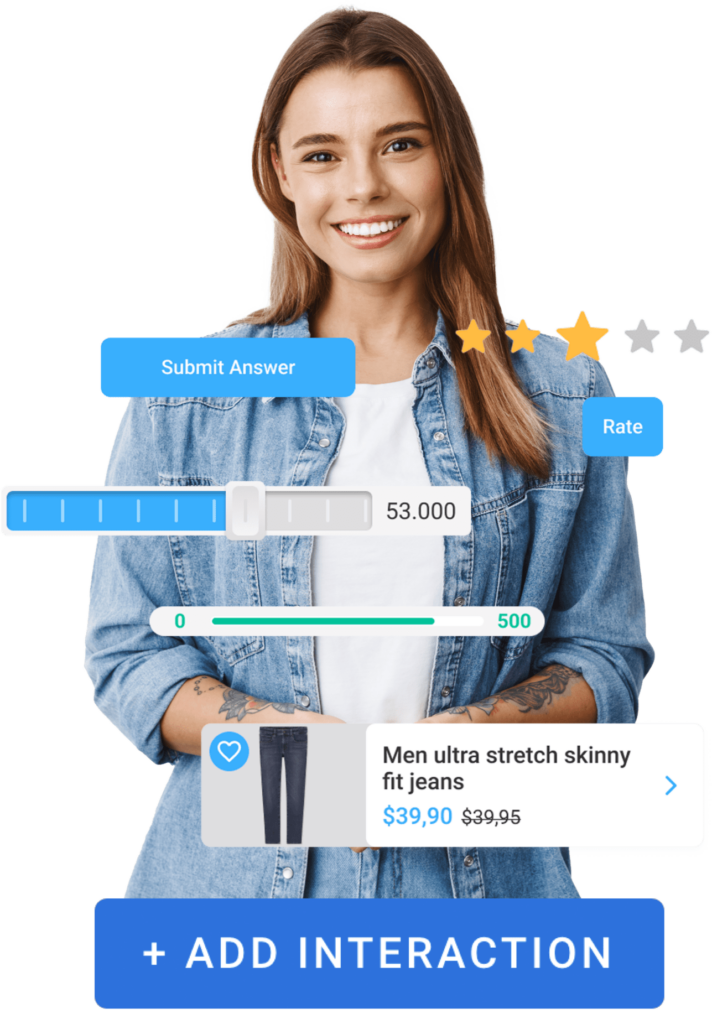 Impressive out-of-the-box features
Highly engaged viewers are more likely to watch your live content all the way through, interact with a sponsor, make a purchase, and return for the next event. Livery includes a wealth of ways to engage your audience and energize your livestream to reach maximum revenue potential.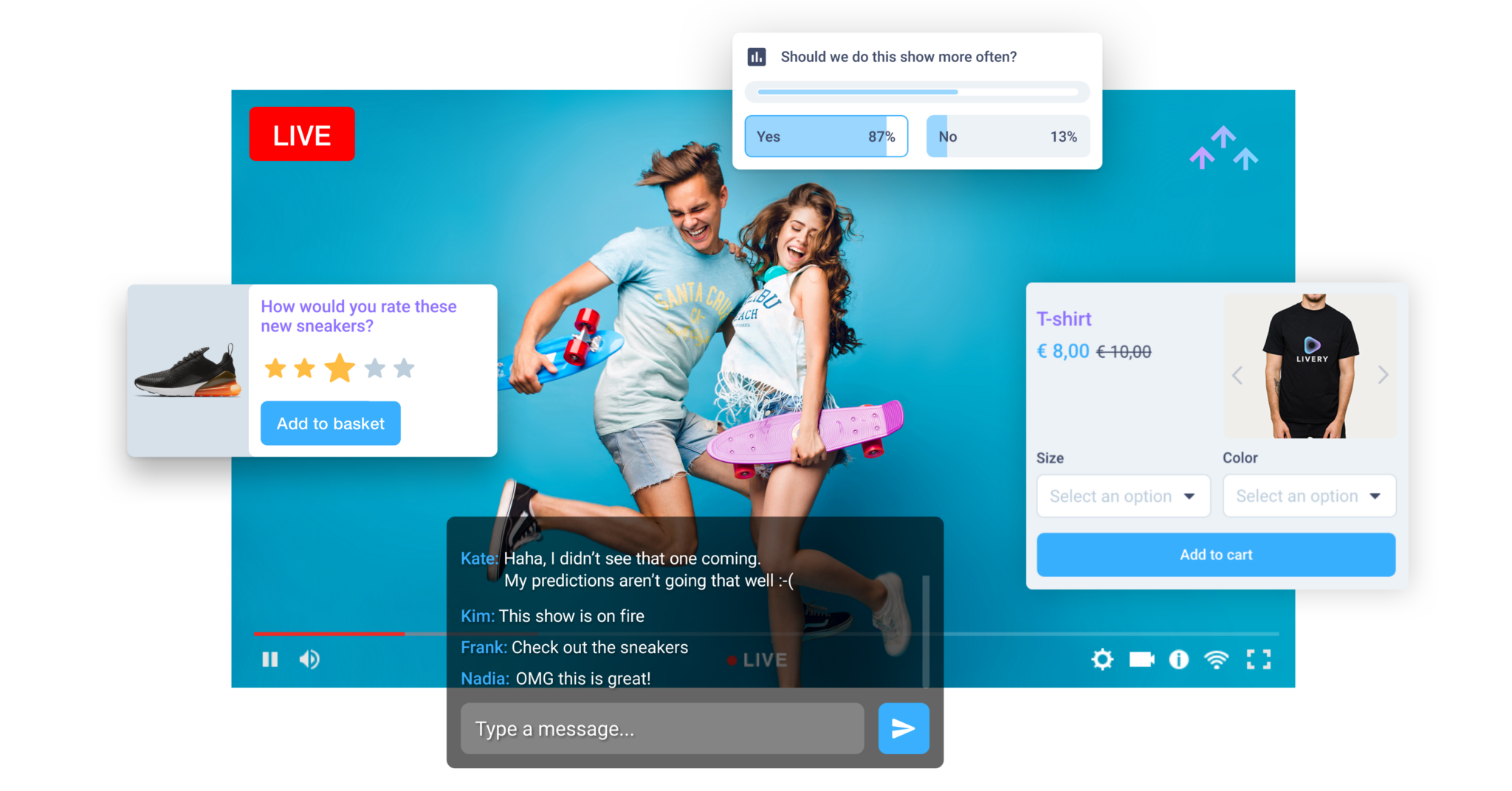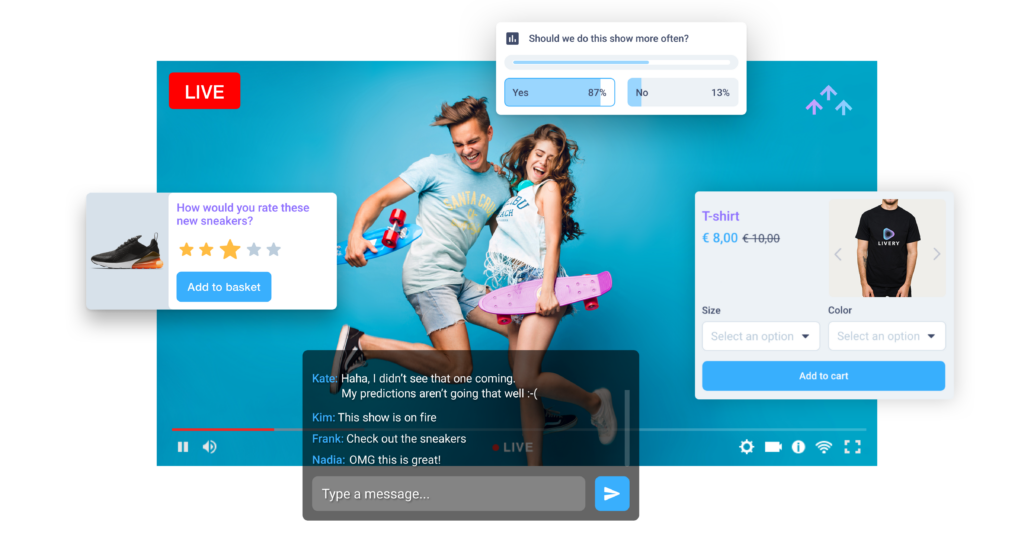 With our out-of-the-box interaction suite, you can craft a live show that will have sponsors and advertisers begging for screen time with no additional effort or upfront cost. Here are some ways you can use it:
Offer a QVC-style shopping experience for advertisers and local vendors.
Sell tickets, merchandise, or anything else you can think of.
Enable/disable comments as you see fit.
Add context through pictures and text overlays.
Host live interactive lessons with local chefs, politicians, or retailers.
Allow experts to answer Q&As.
Create an interactive live trivia show.
Trusted by customers worldwide
Maximize your revenue with in-stream monetization options
Let viewers shop merchandise, promote advertisers, access exclusive subscriber-only content, or buy tickets to events without disrupting the viewer experience.
Break through the sea of free content
You're competing with a sea of free content, so it's time to get creative if you want to stand out. Interactivity offers entirely new ways to engage, entertain, and monetize.
Attract new viewers and hold their attention
Active viewers are the future of live content. Create live shows that hold attention unlike anything else, with dozens of interaction options
Offer an unforgettable experience with 100% ownership rights
You own your audience and data (as it should be).
Scale to audiences of any size with ease
Seamlessly scale from 100 participants to a million, the stream will hold strong.
Reach viewers locally, nationwide, or across the globe
Wherever your viewers are, Livery can reach them with ease and consistent quality.
What can you do with Livery?
While your creativity is truly the only limit to the possibilities, let's paint the picture with an example of what your publishing company can do with Livery.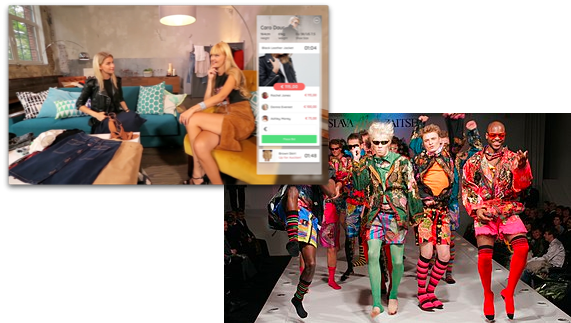 Inspiration for a magazine event
Imagine hosting a weekly show for a fashion magazine. People are invited via the magazine and all socials to join the event and learn all about the latest fashion around the world, presented by a young fashion instagrammer with a big reach.
Interactions: you could start by asking two poll questions to find out who has joined the stream are subscribers or not and who is working in fashion and who is not.
During the broadcast, footage of fashionshows is shown, play a quiz: guess the designer or ask via a rating the opinion of the viewers about outfits and styles. As the stream continues, the audience can pop in their burning Q&A questions that the host can use to guide the conversation or address concerns directly. Use a poll to figure out what your audience is interested in, like field research: would you be interested in reading/hearing all about fashion photography?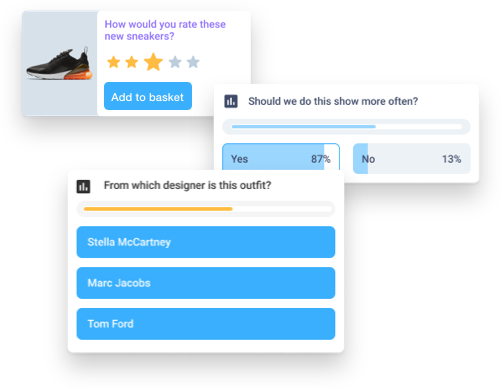 Live shopping: during the stream, favorite items of the host (the instagrammer) can be bought directly in the stream. Together with the advertisers in the magazine you can offer discounts or exclusive products that the audience can shop without disrupting the entertainment. Fun fact: live shopping can boasts a conversion rate of up to 30%.
At the end an announcement is made: Next week is a special event with Fashion photographer Lara Jade. This is only for subscribers… but we have a discount to become a subscriber today, use the code 'Fashion2023'.
Once the stream has ended, imagine taking the video and turning it into an entire suite of content to use across all of your (and/or your sponsor/advertiser's) social platforms.

Data: with every click the viewers do during the live event, you enhance their profile. With these individualized insights you collect to re-target your readers with these products at a later date to keep the advertisers and sponsors coming back for more.
Possibilities:
Use Livery for multiple magazine titles
Host a jubileum event of a magazine or newspaper
Make celebrities of you own columnists by letting them host shows
Team up with advertisers to do a show on a specific brand.
Boost your own sales through live shopping, to be less dependent on advertisers.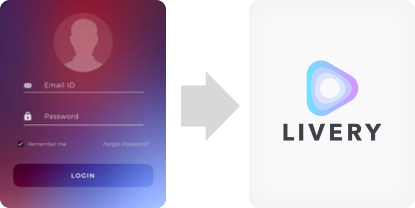 Frictionless login makes it easy for viewers to join your stream – anyone already logged into your website can jump right in with a single click. This reduces the barriers to entry, ensuring easy participation for your viewers.
On your end, frictionless login makes data collection simple. The data gathered in a livestream is valuable – each click offers you insight into your customer. If your viewer joins your stream while signed into their profile, Livery automatically collects that data and stores it within each viewer's profile for you to use as you wish.
Consistent quality for every viewer
Latency & sync: stream in real time on any device
When hosting a livestream, you want every viewer to get an equal experience. That means they need to see the same video frame at the same time.
Ultra-low latency and synchronization bring your streaming services to the next level. With Livery, your livestream can be faster than live TV. But it also doesn't have to be, if, for example, you want a bit of buffer room to smooth out errors, or to stay in sync with a corresponding TV broadcast. You can count on Livery to uphold or improve your performance standard over cable television.
Your viewers can log in from any smart device anywhere in the world without missing a beat.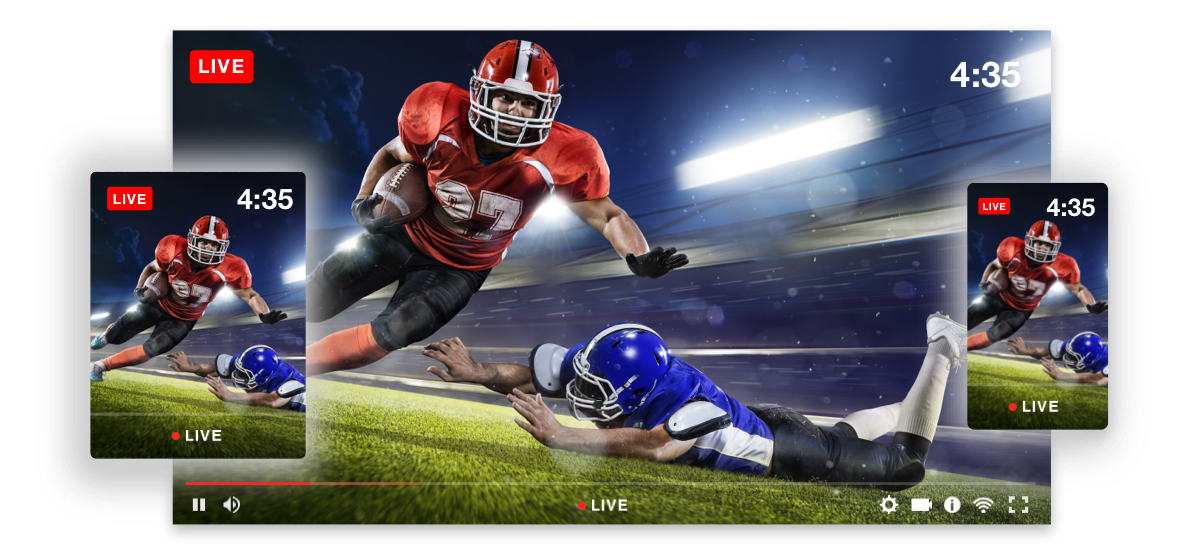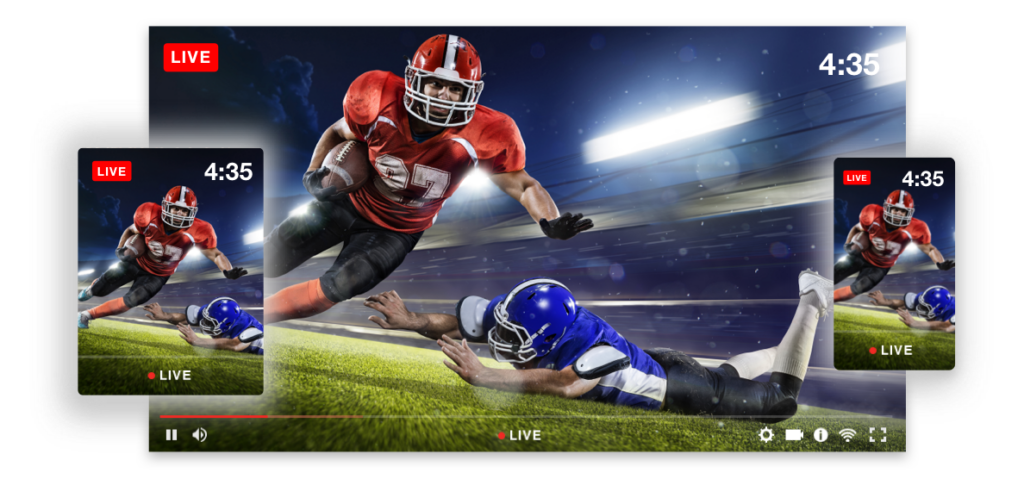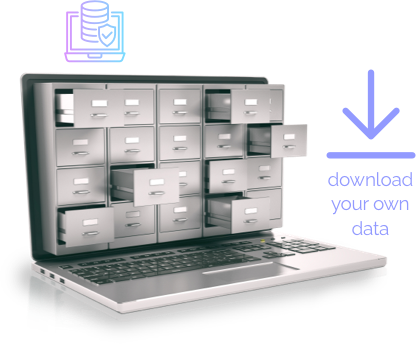 Your data is yours to keep
When you use a free streaming service, the data you collect is theirs to keep, use, and sell at their discretion. We built Livery on the principle that you should own the data you collect, not a third-party tech company.
Whether you are interested in a high-level overview, or if you want to take a deep analysis of your viewers, Livery gives you the tools to do everything with the data you've collected.
Reach viewers around the world with ease
Scalability: your broadcast is ready to reach millions
Livery is designed as a "one-to-many" solution powered by the world's most powerful CDN. This means you'll be able to scale to millions of concurrent users and handle traffic spikes with ease. You can't afford to lose viewers mid-stream because your infrastructure can't cope with the traffic. With Livery, there is strength in numbers.
Without changing your methods or workflow, Livery's underlying standard ULL CMAF works with regular CDNs and is designed to scale. The more users a Livery stream has, the better the stream gets. Additional users allow data to better distribute and the cache to spread, which means our streams get stronger with size.
Competing solutions may collapse under a heavy data load; Livery thrives.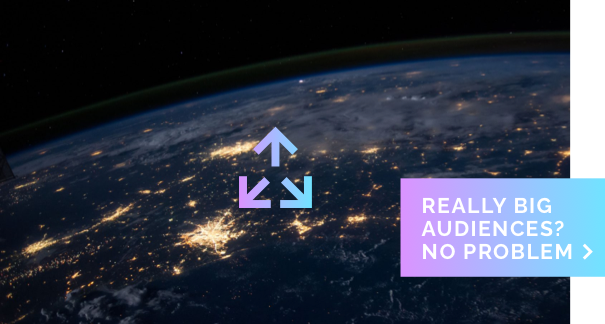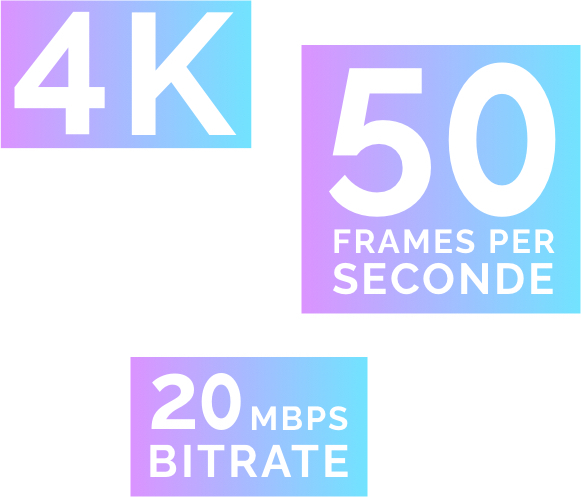 The highest video quality (without the price tag)
We believe that interactive livestreaming shouldn't be complicated or expensive. Everything you need for a high-quality interactive livestream is waiting for you, ready to use out of the box. Other comparable solutions require capital and labor-intensive upfront investments, or significant sacrifices in speed and audiovisual quality.
Higher picture quality, ultra-low-latency, best-in-class scalability, and so much more starting at just €450 per month. Why pay more for less?
We're ready for your app or website
Embed Livery streams into your app or website with ease. Livery supports iOS, Android, and web-based apps. Improve your audience's experience and security by keeping them all in one place – no need to switch to a new browser, platform, or device to consume your content.
The only limit is your creativity
Customize with built-in interactivity & open API
The open Livery platform makes it possible to use our out-of-the-box interactions, integrate what you already have, or create custom interactive experiences by adding your own interactive client to our players' interactive layer using Javascript or HTML elements. Livery provides a wide range of Video & Interactive API's for its customers to maximize flexibility. The only limit is your creativity (and coding skills). Check out our technical documentation.
CONCEPTS & CASES CATALOGUE
GDPR/CCPA compliance: safe & secure
We take privacy and data protection very seriously. That's why we are fully compliant with the General Data Protection Regulation (GDPR) and the California Consumer Privacy Act (CCPA).
All personal data collected, stored, and processed through Livery is handled in a secure and transparent manner. With Livery, you can rest assured that both your and your viewer's personal data will remain protected before, during, and long after your stream.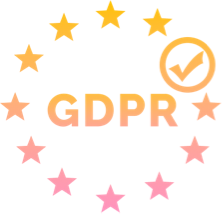 Are you ready to add a powerhouse to your content toolkit?