Live shopping events for Black Friday / Cyber Monday weekend
Sell with ease this holiday season. Livery is your one-stop shop to host, plan, broadcast, engage, and make memories through a livestreamed event that creates customers.
Create a buzz: offer exclusive sales within your live stream

Live shopping: let your viewers shop in-stream

Boost your sales: capture BFCM impulse buys with exciting content

Scale to the masses: reach millions with unmatched scalability

End-to-end solution: easy to use – no installation required

Own your data: your livestream audience and data are 100% yours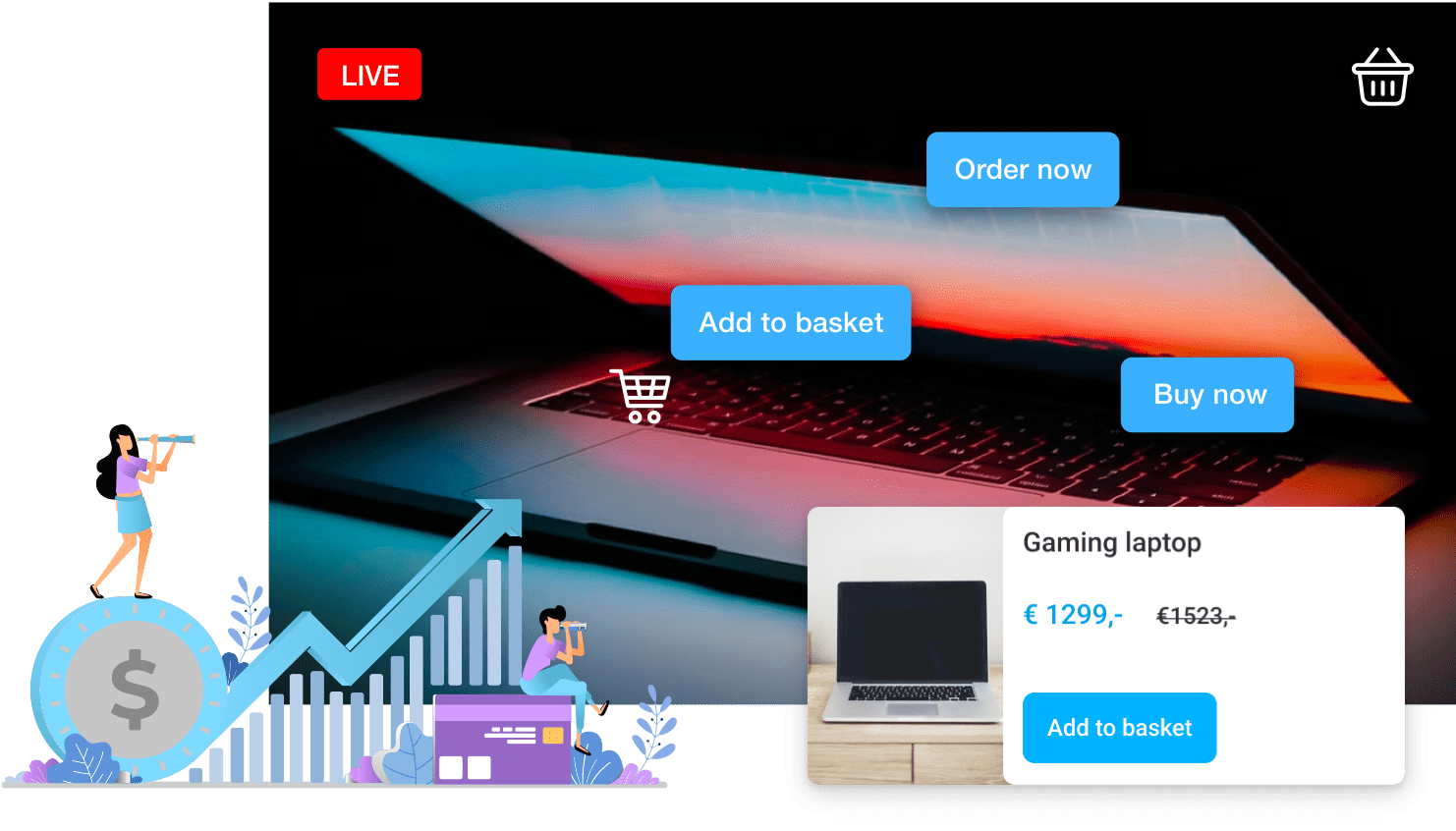 Live shopping events with ease
Our platform gives you everything you need to get from idea to event in one easy-to-use place. Livery was made for this. Because social media is for scrolling, not live shopping.
This are the result of a wineshop's live shopping event with Livery:
higher average order value.
upsell conversion after 14 days.
rated the live shopping session with 'excelent'.
participants would recommend the live shopping event to others.
Create one-of-a-kind content that works
Host live video events that are so much fun, your customers won't realize it's marketing.
From idea to event in hours instead of weeks
Time is precious during the holidays. Speed up the event planning process – DIY in a matter of hours.
Boost conversions with in-stream shopping
Easily adapt your content to optimize your results in real time. Are your customers loving the product you're showing? Linger on it and maximize BFCM sales.
Reach customers around the globe
Wherever your customers are, Livery can reach them with ease and consistent quality.
Break through the content noise this year
Don't do what everyone else is doing for BFCM if you want extraordinary results. Do something extraordinary.
Scale to audiences of any size
Whether you have 100 participants, or a million, the stream will hold strong.
What does live e-commerce look like?
The options for live shopping and eCommerce are endless.
Here are some creative ways to stand out this holiday season.

Host your own QVC-style show. Talk about products and let your customers see how they work. As they watch and find things they like, they can pop them right into their shopping cart.

Offer strategic product placement. Host a livestream event that casually interacts with your products. Without breaking the flow of entertainment, let the widget suggest these products as they become relevant.

Put together a style guide or lookbook. People are more likely to make a purchase if they can imagine themselves using the product. Put together a real-time shoppable lookbook, answer questions or specific style requests, and watch your sales soar.

Host a flash sale. An invite-only exclusive and limited-time offer can tempt even the most skeptical customer to take a peek.

Create a demo, online learning, or entertainment session. Sell your product(s) or services after showing your customers the things they should know about your product and how to use it.

Capitalize on the "unboxing" trend. Show off your product packaging and sell viewers on the experience of unboxing your products.
See the possibilities in a live demo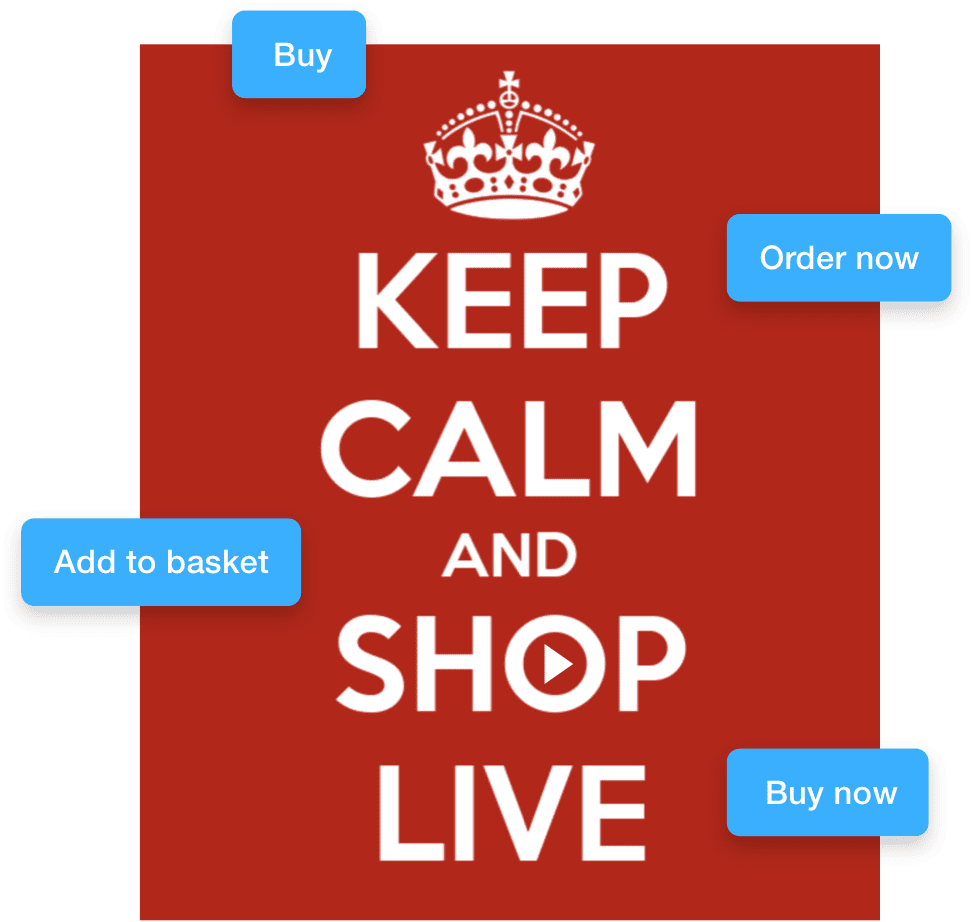 How does live shopping break through the holiday noise?
It's the official kickoff to the holiday season – a special mix of anticipation, real-time good stress, and the thrill of a limited window to take action and snag a deal. How can you recreate that same mix of excitement, real-time engagement, and limited response windows to stand out from the competition online? What about Live eCommerce?
Live shopping reports
conversion rates of up to 30%
, a nearly 10x performance when compared to standard eCommerce's < 5% average conversion rate. But how?
It's immersive
. Interactive livestreaming (with or without commerce) keeps people's attention and improves viewer retention.
It's different
. Done right, you have the chance to offer customers a way to engage with your brand unlike anything they've seen before.
It's two-way real-time communication
. You can connect, engage, and communicate both ways in real time. Traditional live video is one-way: you put out content, the viewer consumes it. Interactive video that lets the viewer chat, ask questions, and shop in real time offers something special.
Are you ready for live shoppable video?
We've created a platform that lets you plan and host livestream video events that are 100% yours. Customize branding, add your favorite widgets, and keep your audience and customer data where it belongs – with YOU, not the platform.