Real-time sports betting straight from the livestream
Live online sports betting is exploding in popularity. With our signature low latency and synchronized video capabilities, Livery is up to the task of live in-play betting, straight from the game's livestream.
Synchronized stream: no matter the device or connection
Ultra low latency: just 1 to 3 seconds behind reality
Scalable: millions of simultaneous viewers with superior video quality
Increase engagement with additional interactions
Make betting fair for everyone while staying in regulatory compliance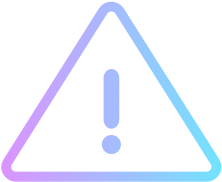 why do you need ultra Low Latency?
Conventional streaming platforms fail sports
Real-time betting doesn't work if the moment has already passed. With Livery's ultra-low latency, no matter where you are or what device you're using, you see the game unfold as it happens. In contrast, conventional livestreaming platforms have latencies of up to 30 seconds, which ruins the in-play betting experience. Using Livery to power your livestream means that fans get more time to lock in their bets, resulting in a better user experience and higher revenue.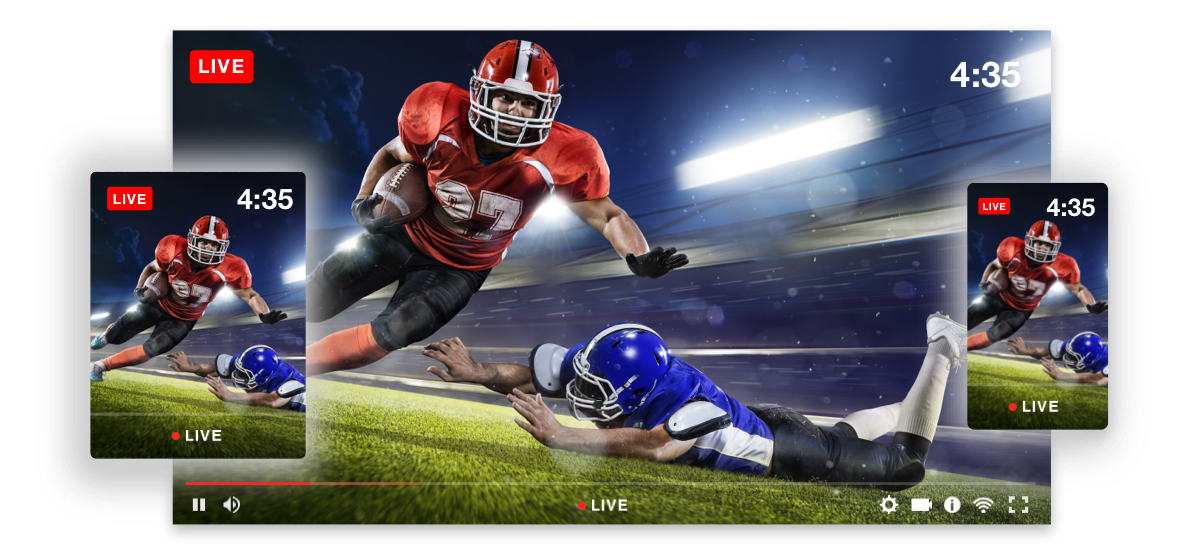 sync and ultra low latency
Fair and compliant betting
In real-time betting, time is of the essence. No matter the device or connection type, every user deserves an equal experience. To ensure fair play, low latency alone is not enough: stream synchronization ensures everyone has access to the same information at the same time. This is not just fair – increasingly regulators require sports streams to be both low latency and synchronized.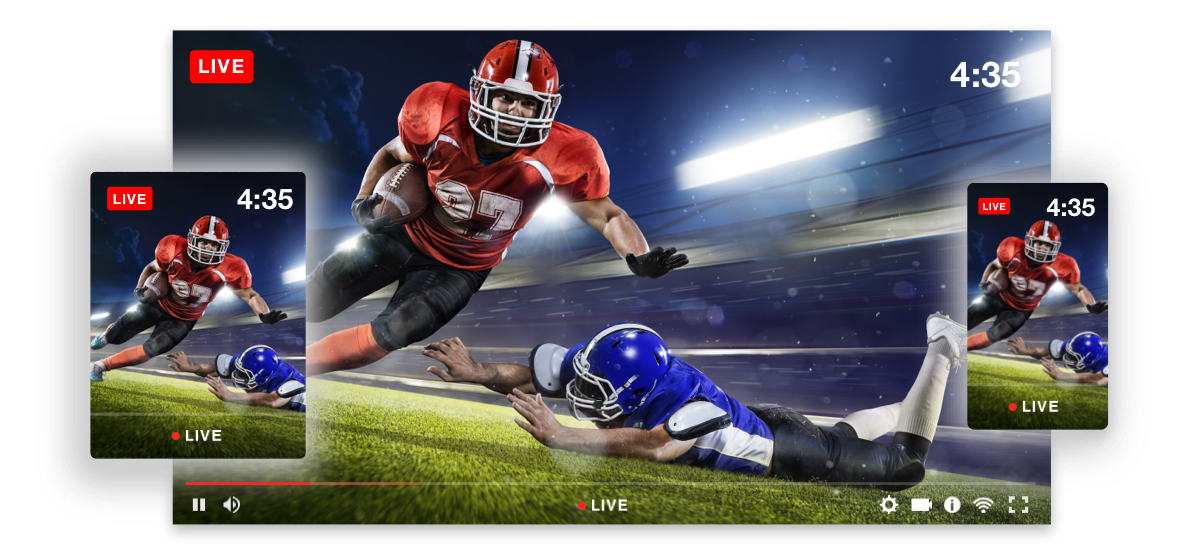 You can't afford to lose viewers mid-game because your infrastructure can't cope with the traffic. With Livery, there is strength in numbers. Unlike WebRTC, Livery's underlying standard ULL CMAF works with regular CDNs and is designed to scale. The more users a Livery stream has, the better the stream gets. Additional users allow data to better distribute and the cache to spread, which means our streams get stronger with size. Competing solutions may collapse under a heavy data load; Livery thrives.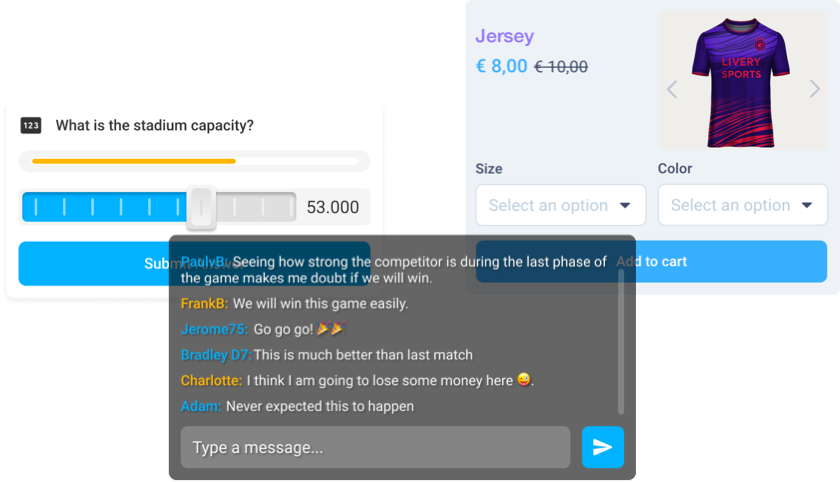 Energize the stream for sports fans
Highly engaged fans are more likely to bet or make a purchase. Livery includes a wealth of ways to engage your audience and energize your livestream. Our standard interaction widgets are ready to use with no additional effort or upfront cost. With these widgets you can craft a unique and memorable experience by combining bets with other forms of audience engagement. Let viewers choose the man of the match/game. Let sponsors present a prize to the highest score in a club/team history quiz. Sell jerseys or tickets to the next game. Let fans chat, overlay the video with emojis, allow pundits to answer Q&As, and more.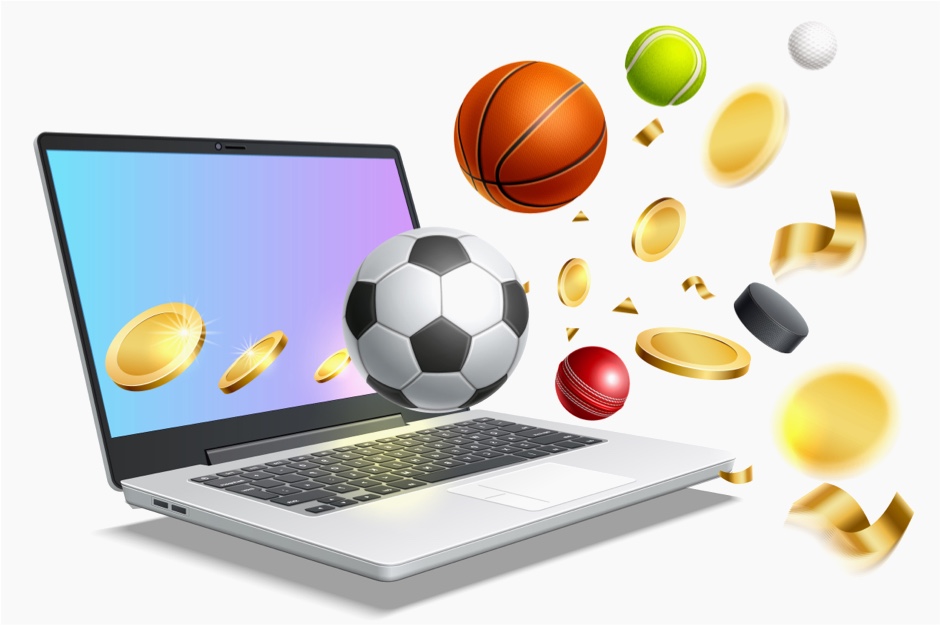 Customize with API & custom interactions
The open Livery platform makes it possible to integrate what you already have or create custom interactive betting experiences by adding an interactive layer using Javascript or HTML elements. The API also makes it possible to automate triggers, making it flexible and easy to use.
Why WebRTC may not be the best solution for live video streaming
WebRTC's latency comes at a cost
WebRTC is a great choice if you require one-to-few or many-to-many, sub-second latency capabilities (think video conferencing or remote surgery). However, in nearly 90% of all cases, sub-second latency is not necessary. 1-3 seconds is sufficient for a great user experience, especially when combined with stream syncing technology.
Higher quality, lower costs, and device efficiency
Compared to WebRTC, Livery offers significantly higher video quality, uses less data, and offers better device and battery efficiency for an overall superior user experience.
Scaling is no problem with Livery
Livery is designed as a "one-to-many" solution powered by the world's most powerful CDN. This means you'll be able to scale to millions of concurrent users and handle traffic spikes with ease.
WebRTC is 4 to 8 times more expensive than Livery
WebRTC requires dedicated server infrastructure which has a significant impact on the overall cost. By using established, world-spanning infrastructure and edge networks, Livery is much more cost-efficient than WebRTC.
Add monetization models to your streams
Livery's ultra-low latency streaming solution supports video advertising networks and exchanges, which WebRTC doesn't offer out of the box. Additionally, we also support other ways to monetize like e-commerce and paid stream access.
Have you ever heard your neighbor celebrating a goal before it has even shown up on your screen? That's an example of a livestream out of sync. A few seconds is all it takes to ruin the moment. Ultra-low latency and synchronization bring your streaming services to the next level. With Livery, your livestream can be faster than live TV. But it also doesn't have to be. With Livery, you can also choose to stay in sync with a corresponding TV broadcast.
In sports, it is all about performance for both the athletes and fans. You can count on Livery to uphold or improve your performance standard over cable television.* Make live sports more engaging than ever before with chat, trivia, or prediction widgets that appear directly on the stream. Or let the viewers change their viewpoint by seamlessly switching camera streams. There are so many options – your creativity is the only limit. Discover the Livery difference. Game, set, match!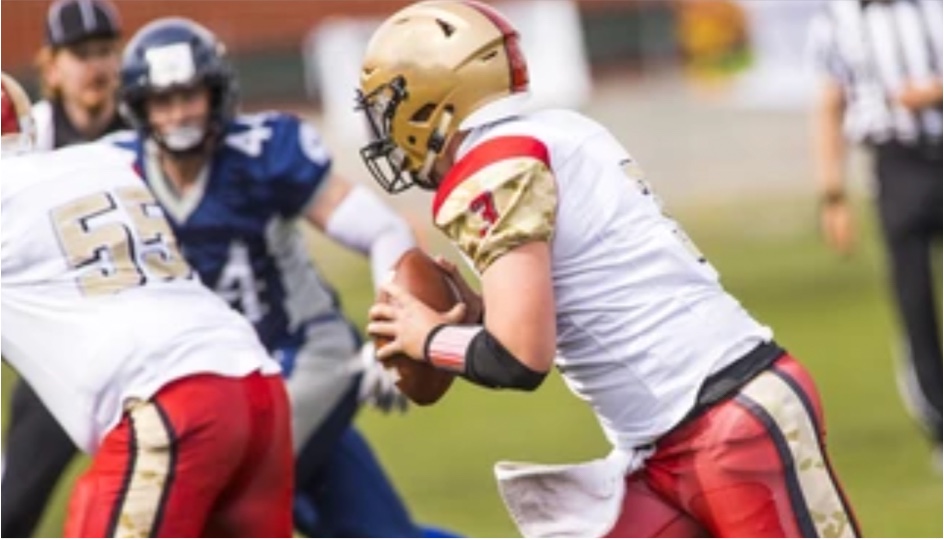 The growing market of eSports
ESports and video game streaming is a billion-dollar industry as of 2021. With an estimated annual growth of nearly 70 percent, the eSports market is expected to reach a $US3.5 billion valuation by 2025. To compete in this new and rapidly expanding space, you need a robust professional online game streaming platform that reliably delivers ultra-low latency eSports content.
ESports streaming has transformed over the last few years. It isn't just about the video and latency anymore. Today, it has become a full-scale entertainment medium. Where eSports stands out from traditional game streams is within its dedicated community. By offering interactivity during the stream, eSports ‌create that sense of inclusion as the community chats, votes, bets, and plays along beside one another. The time to dive into eSports is now. Let Livery power your next interactive eSport stream.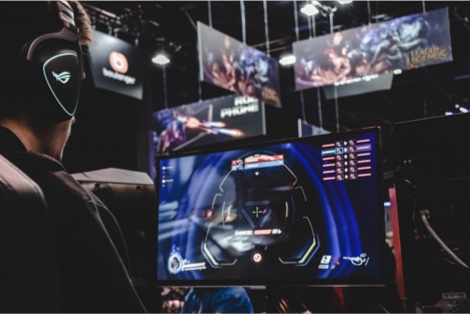 Are you ready for real-time sports betting?
We've created a platform that lets you plan and host livestream video events that are 100% yours. Customize branding, add your favorite widgets, and keep your audience and customer data where it belongs – with YOU, not the platform.