Create your own gameshow or trivia event
If you've ever considered hosting your own online game show, learning event, or trivia-based game, there's one thing you can't afford to get wrong: the platform.
Our interactive video solution is a one-stop-shop. Livery offers everything you need to build and scale your own game, education, or trivia show with ease.
Educate and entertain

your viewers with ready-to-use interactive components like polls, trivia, and gaming.

Encourage healthy competition

with automated scoring and a leaderboard that updates in real time.

Maximize engagement

through live reactions, instant chat, and Q&A widgets. 

Easily integrate

Livery with your app or website using our API.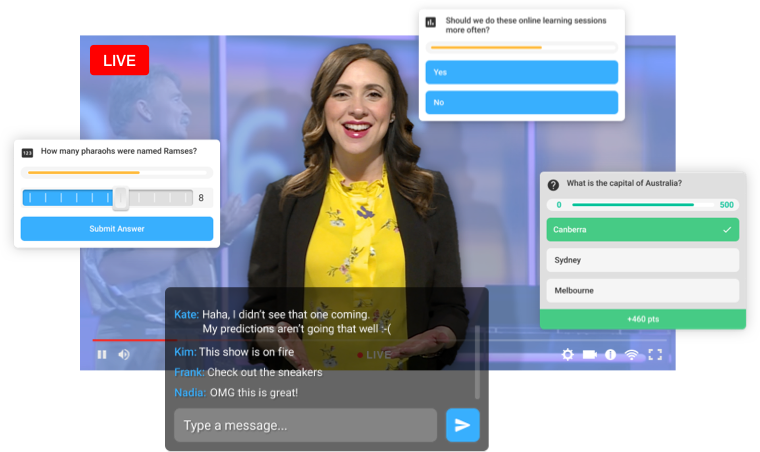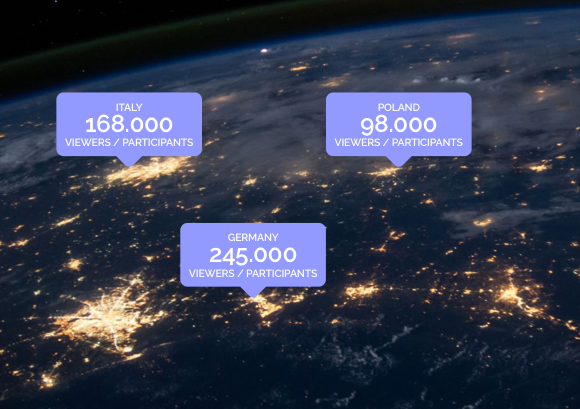 Host unlimited players around the world
Flexible and scalable to your audience
Easily create your own game show experience with Livery:
Live stream with ultra-low latency.

Scalable infrastructure to provide lag-free video for hundreds of thousands of concurrent users worldwide.

Use Livery's standard interactions or create your own JavaScript / HTML-based gaming experience.

User-friendly backend console to make content creation, live operations, presenter view, and user management a breeze.
Customize your game with powerful interactions
With the simplicity of the Livery platform and our full library of interactive features, it is easy to set up your online gameshow. Create a fun and memorable live stream to test the viewers knowledge and understanding. Let them compete for high scores, win prizes, and more.
Speed and accuracy matter in this real-time trivia widget. Offer multiple-choice questions and let your audience battle for the highest score on the leaderboard.
Guessing was never this fun. The closer the guess, the better. Guesses are scored and contribute to the leaderboard ranking.
Provides the host with real-time information, such as interaction results, live reactions, live leaderboard and questions asked in the Q&A.
Create friendly competition through the leaderboard widget. Compete for the top spot with points earned during and after the game.
This is just a selection of our interactions…
Lift Kvis is a popular live game show app in the Eastern European market. Thousands of players tune into its four live games each week and compete to win cash prizes. Lift Kvis has chosen Livery as its partner to provide a secure and stable streaming solution.
During the Lift Kvis live game show, the host asks a trivia question that viewers can answer in real time. The host can see the responses, viewer information, engagement statistics, and more on the autocue (teleprompter) and react accordingly without missing a beat. This is a perfect example of a full feedback loop — when user input influences the content/output.
"We have searched for a lot of different solutions but none gave us interactivity, stability, and quality as the Livery streaming solution. Their hardware encoder together with reliable CDN and their team expertise gives us the confidence to focus on product and content." Nemanja Milic – Co-Founder of Lift Kvis.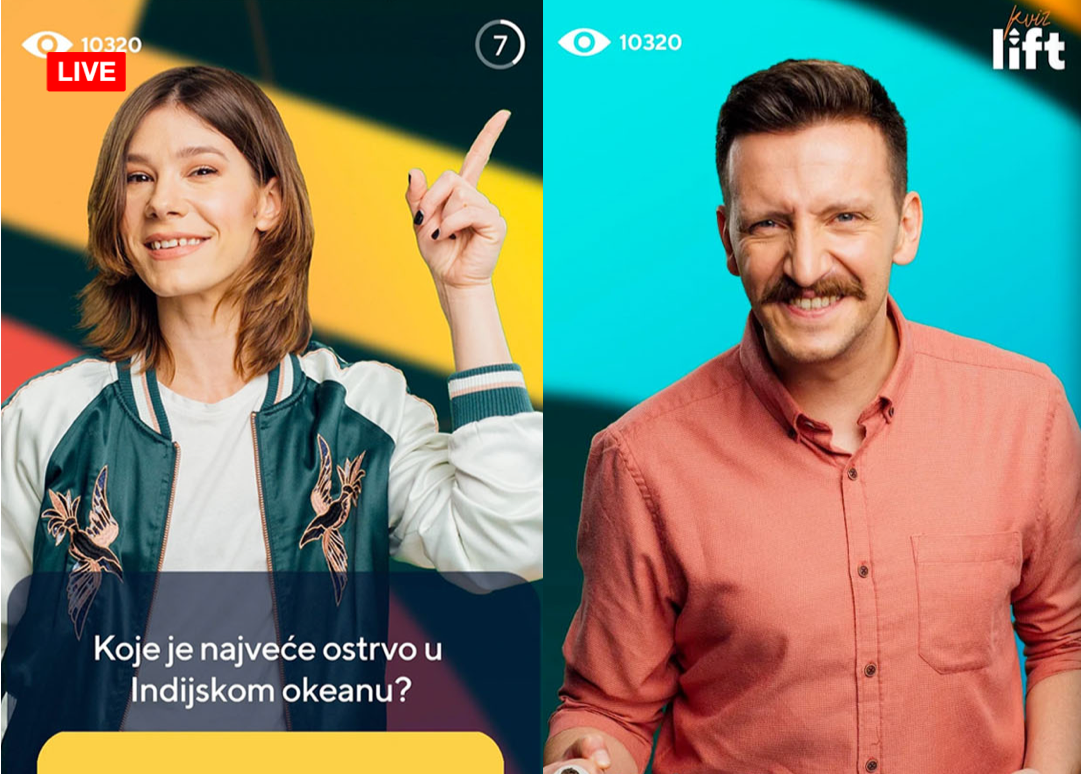 Ready to create online gameshows or trivia events?
We've created a platform that lets you plan and host livestream video events that are 100% yours. Customize branding, add your favorite widgets, and keep your audience and customer data where it belongs – with YOU, not the platform.