Let customers shop your livestream. With Livery, you can easily create a simple, fun, and entertaining revenue stream for your e-commerce business. Attach interactive shopping components to your live video or online event to convert a passive audience into profit.
Create a buzz: showcase products within your live stream
Live shopping: let your viewers shop in-stream with shopping components
Scale to the masses: Reach millions with unmatched scalability
Boost your sales: engage with live content, convert with Livery
End-to-end solution: easy to use – no installation required
From engagement to conversion
Seamless, integrated live shopping
Anyone can create a shoppable livestream event with our easy-to-use web-based management system. You don't need additional tools or installation to get started. All you need is an internet browser.
Sell with engagement & storytelling
Live events naturally generate emotions and responses—audiences love seeing the action happen in real time. With interactivity added, your engagement will skyrocket as viewers discuss, purchase, and play along with the things they see and hear.
E-commerce within your live stream
Turn your live event into a money-making machine.
Seamless e-commerce interactions, integrated into your live stream to boost your sales throughout the event. Check out a selection of our live video shopping interactions:
Drive traffic to your website or app through clickable announcements. Customize with a title, subtitle, image, and button.
Find out how your viewers feel about a product through real-time product ranking.
Boost your sales by letting customers add products to their basket within the stream. Seamless & integrated live shopping.
Hepsiburada live shopping
The Turkish e-commerce market leader, Hepsiburada (which translates to "everything is here") uses Livery Video & interactions to create an online shopping channel.
Through Livery Video, Hepsiburada conducts their frequent live shows where they review and promote technology, cosmetics, toys, and more to thousands of engaged viewers.
While enjoying the show, viewers can purchase the promoted products directly within the video stream. Thanks to Livery's syncing technology, the video and interactions stay in near-perfect timing–no matter how heavily shoppers interact with the video, they won't miss a thing.
Once the show has ended, all on-stream data is Hepsiburada's to keep and analyze, giving them an opportunity to learn and adapt to their shoppers over time.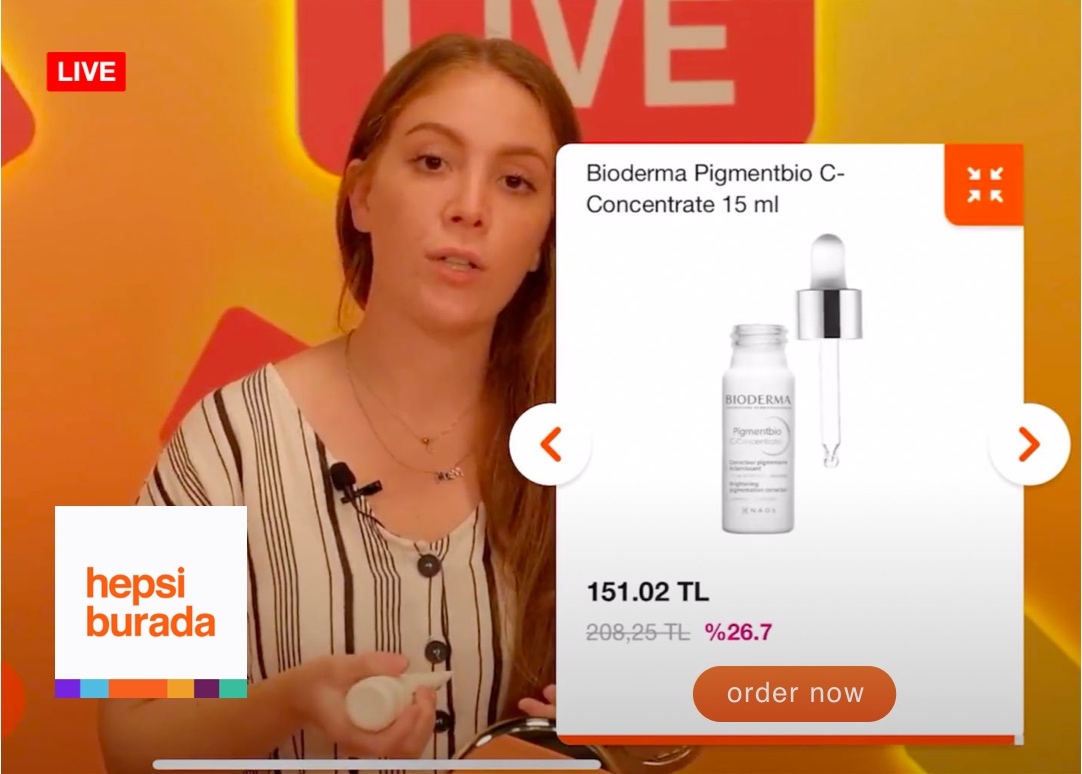 An essential guide for everybody starting with live shopping. The blueprint contains simple steps and building blocks to start yourself:
Event strategies matching your proposition
How to build a live shopping event: Timeline tips
Studio setup examples
Use cases 
Business calculator: customise and see your personal costs & profits
Are you ready for live shopping?
We've created a platform that lets you plan and host livestream video events that are 100% yours. Customize branding, add your favorite widgets, and keep your audience and customer data where it belongs – with YOU, not the platform.