premium corporate livestreaming
Move forward with high quality and compliant live streaming
Are you tired of problems with livestreaming your press conference, investor or shareholders meetings? Think about too many participants, video delay and lag, exploding chats or non-moderated Q&A sessions. 
That stops now! Livery interactive livestreaming is the perfect addition to your corporate communication toolkit. Let us show you why.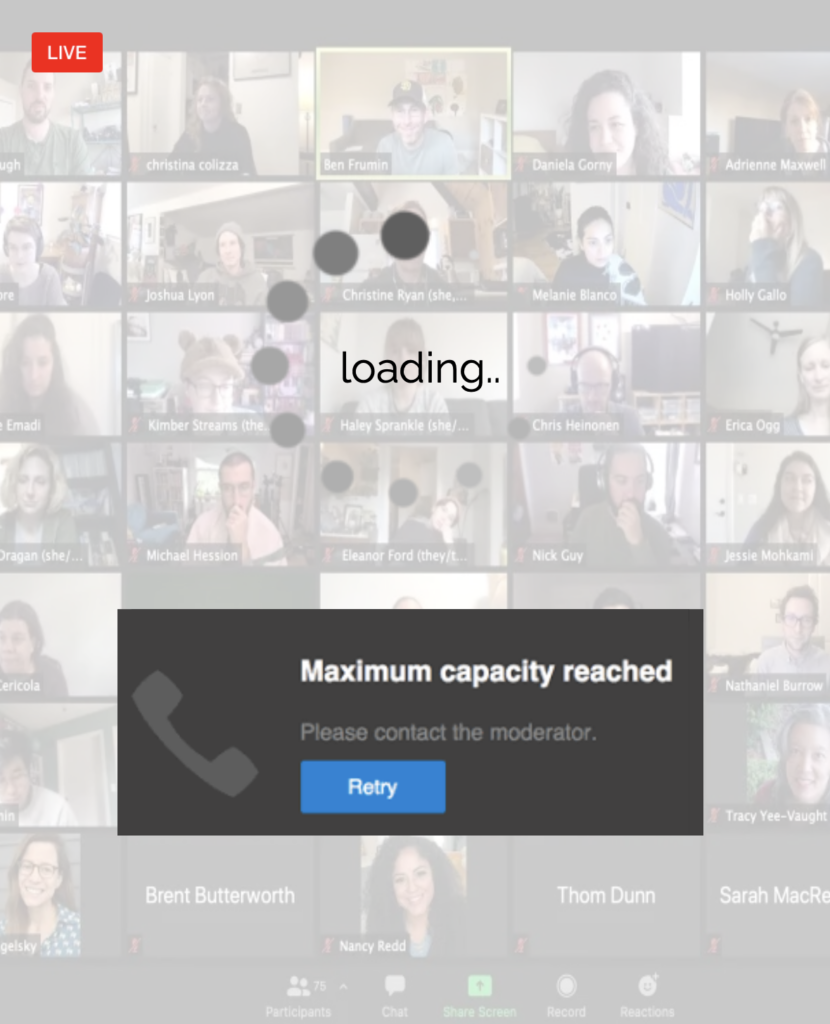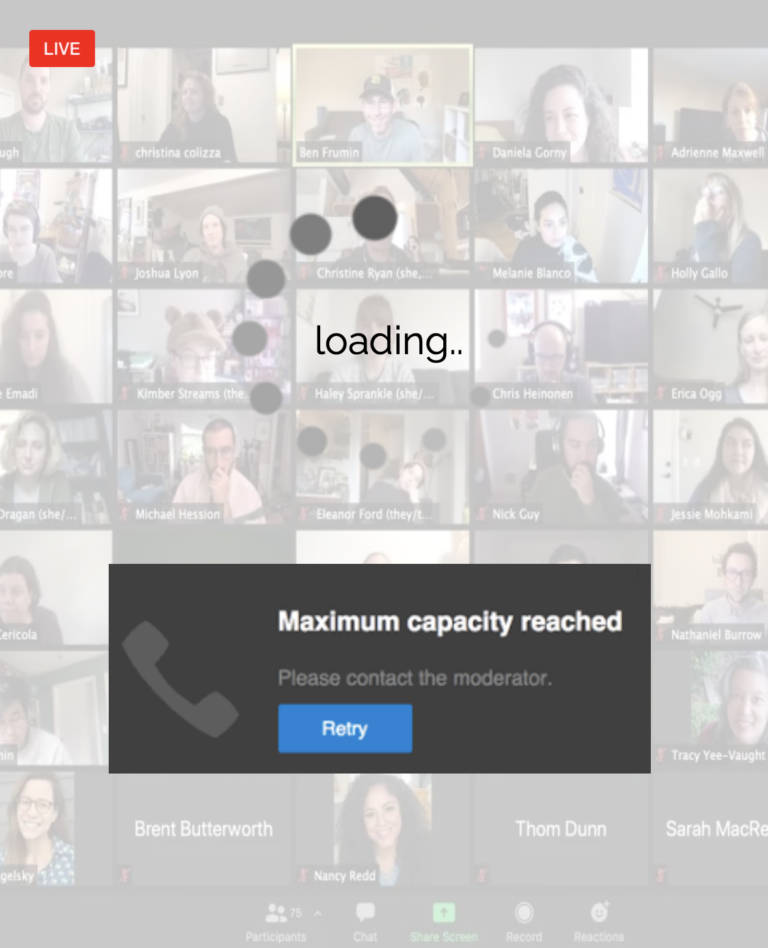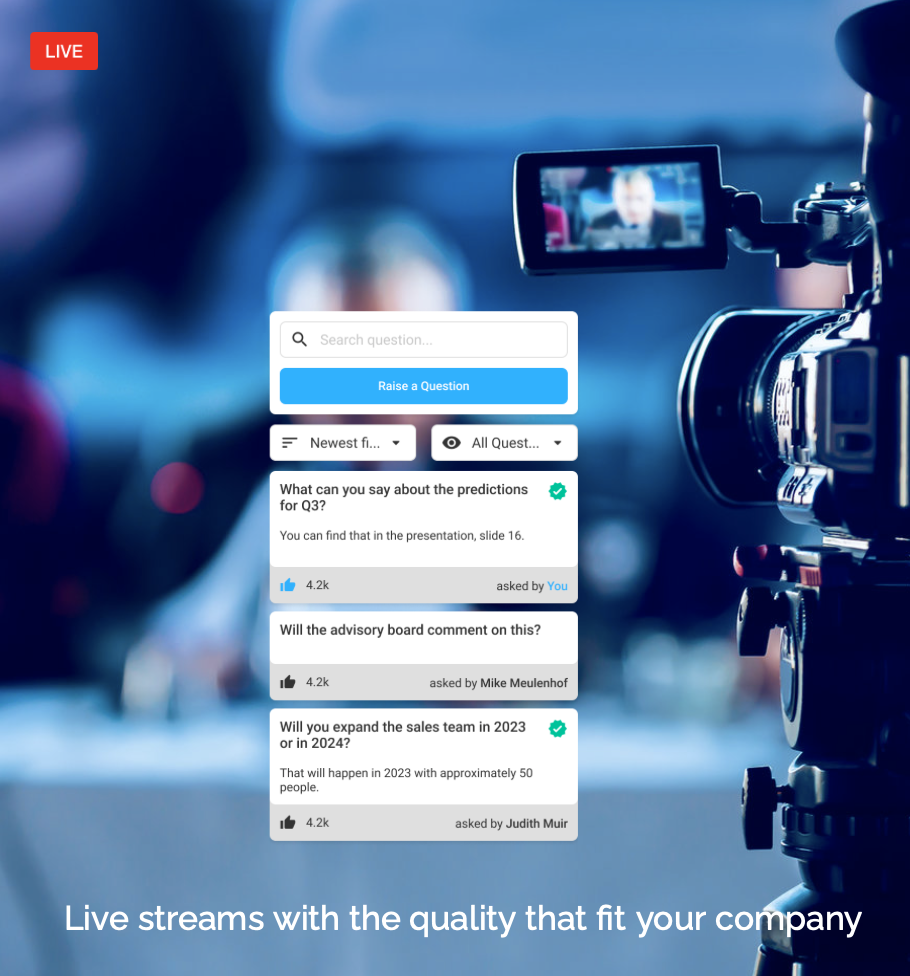 Consistent quality for every viewer
Improve your online shareholder analyst meeting or press conference
High quality live streaming with communication possibilities:
High quality video image, better than Teams, Zoom and Meet

High quality sound, better than Teams, Zoom and Meet

One to many, where viewers don't see each other



Moderated Q&A
Why taking the unnecessary risk not to be compliant, while the solution is at the tip of your hands?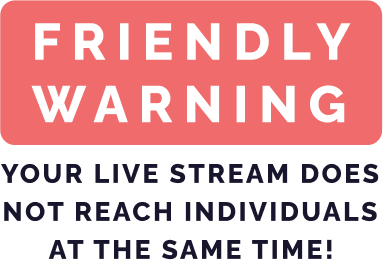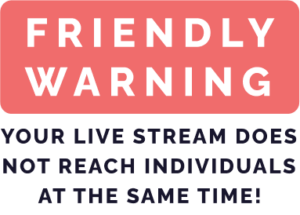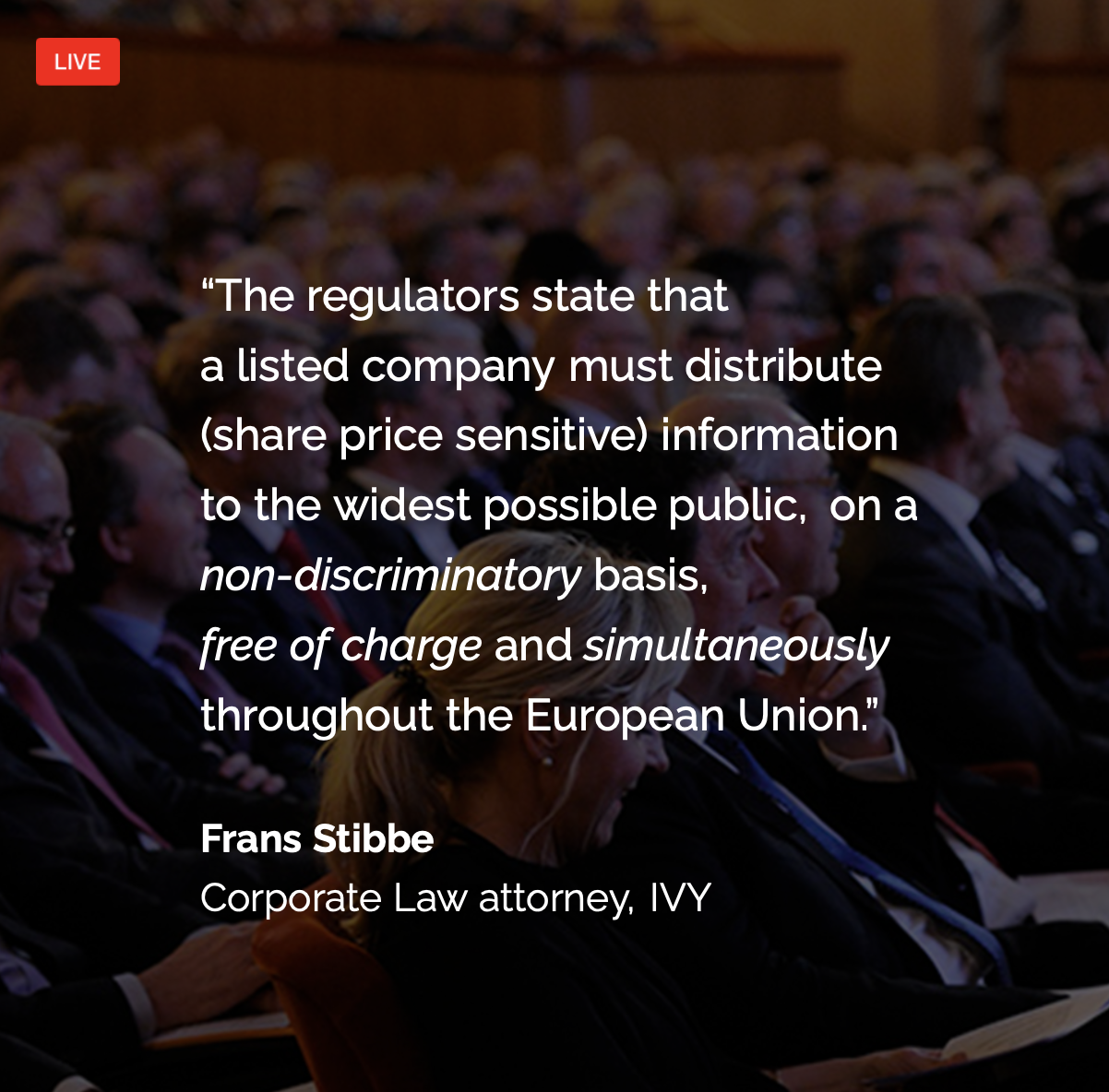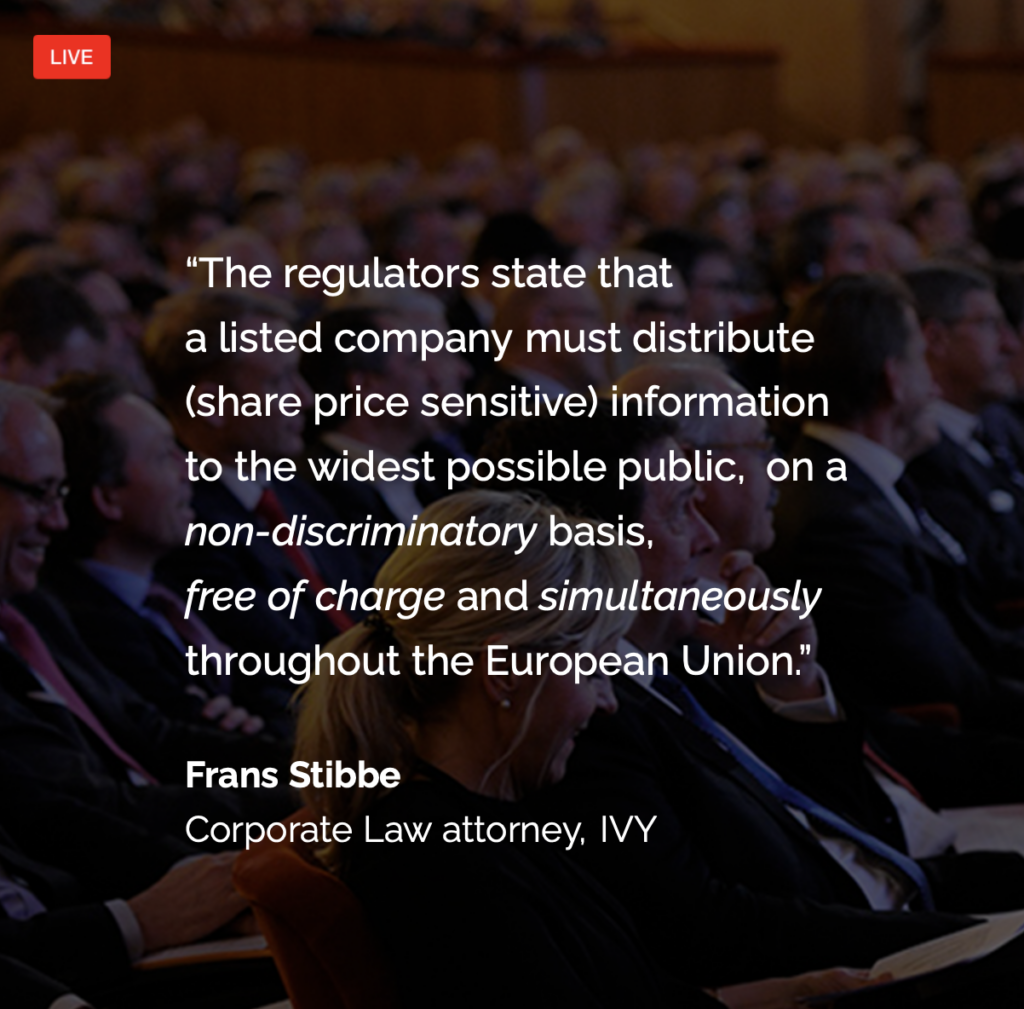 Get your livestream real-time and received on everyone's device at exactly the same time
When hosting a livestream, you want every viewer to see the same video frame at the same time.
A feature that makes Livery unique is our ultra-low latency live video, with only 1 to 3 seconds synchronized delay makes sure that everyone will receive the same information at exactly the same time on their device.
Your viewers can log in from any smart device anywhere in the world without missing a beat.
Trusted by customers worldwide
Reach viewers around the world with ease
Scalability: your broadcast is ready to reach millions
Inform your shareholders, investors, press, employees or larger more general audiences all at once. In contrast to WebRTC solutions (like Zoom, Teams or Google Meet), the number of participants is not a limitation. Where competing solutions may collapse under a heavy data load; Livery thrives.
Livery is designed as a "one-to-many" solution powered by the world's most powerful CDN. Whenever needed, scaling up your live streaming from fifty to hundreds of thousands of people at the same time is no problem. Great for crisis situations or important communication towards the bigger public.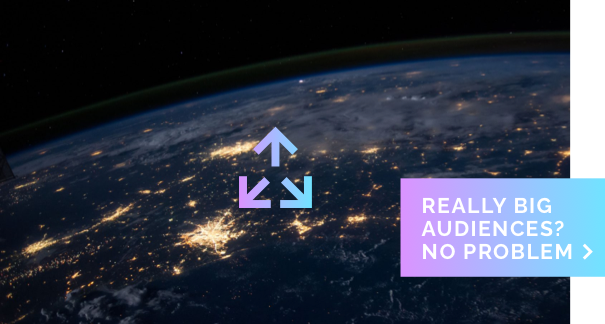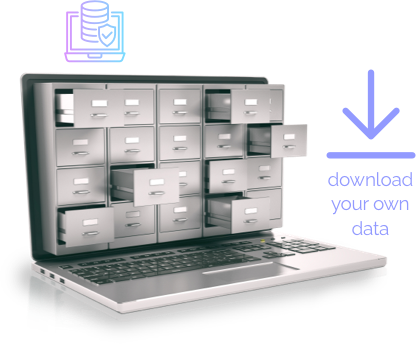 All data is secure, your own & not shared with anybody else
When you use a free streaming service, the data you collect is theirs to keep, use, and sell at their discretion. We built Livery on the principle that you should own the data you collect, not a third-party tech company.
Whether you are interested in a high-level overview, or if you want to take a deep analysis of your viewers, Livery gives you the tools to do everything with the data you've collected. We provide you with real-time data: who visited, for how long, and what did they click. This gives you the option to analyze data during and after the live session. Secure and safe.
Interactivity is an option: Want to get your audience participating?
Let your audience ask questions, find out their opinion or let them rate, make predictions or vote on certain matters. 
Highly engaged viewers are more likely to watch your live content all the way through and interact with the stream.
Find our more about our out-of-the-box interaction suite, all managed from our easy-to-use broadcasting system.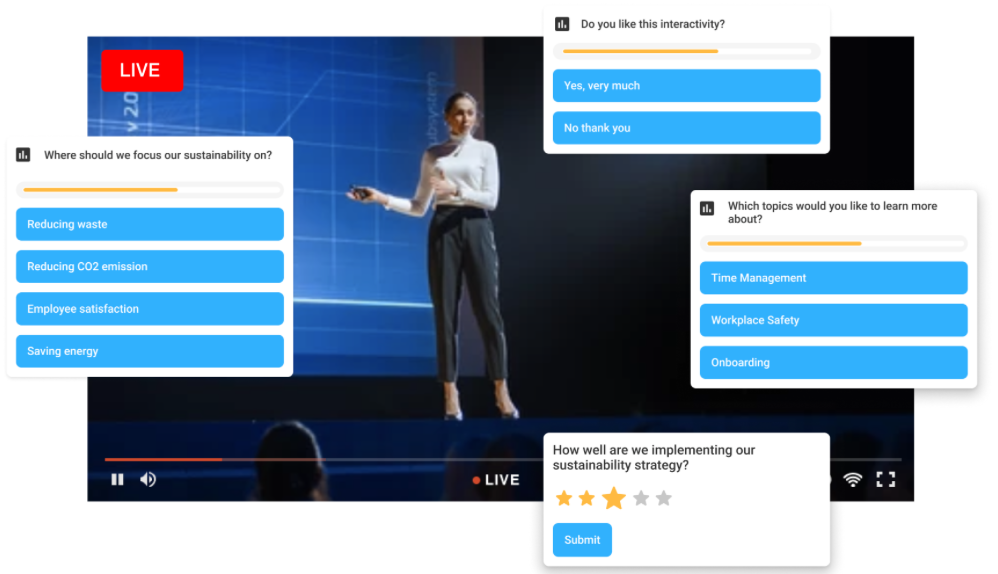 Interested in a partnership with Livery?
Let's team up to increase both our revenue
See our partner page for all benefits joining the Livery partner proposition: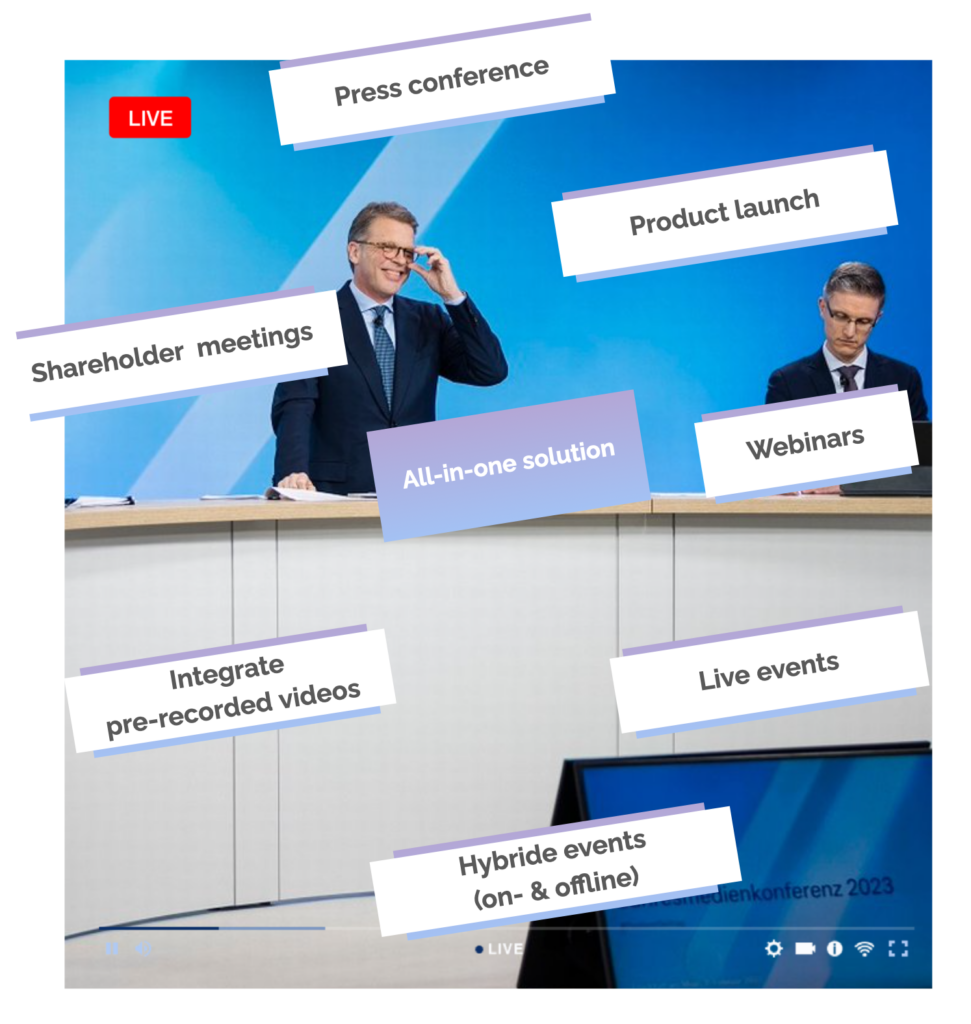 Versatile solution for all your (online) meetings & events
Whether you'd like to inform your shareholders, host a press conference or do an internal product launch for your staf, Livery is ready to use from every camera.
Host livestream events wherever you like. You can reach anyone, anywhere, anytime, with ease.
Press conferences
Shareholders meetings
Product launch 
Webinars
Integrate pre-recorded videos
Live or hybride events
Would you like a full service solution?
If you don't have an in house technical service department who facilitates your live broadcast or events:
Livery has a partnernetwork with several full (technical) service companies who are using Livery's interactive video platform.
We can facilitate the right fit for you, or work together with your current technical service company.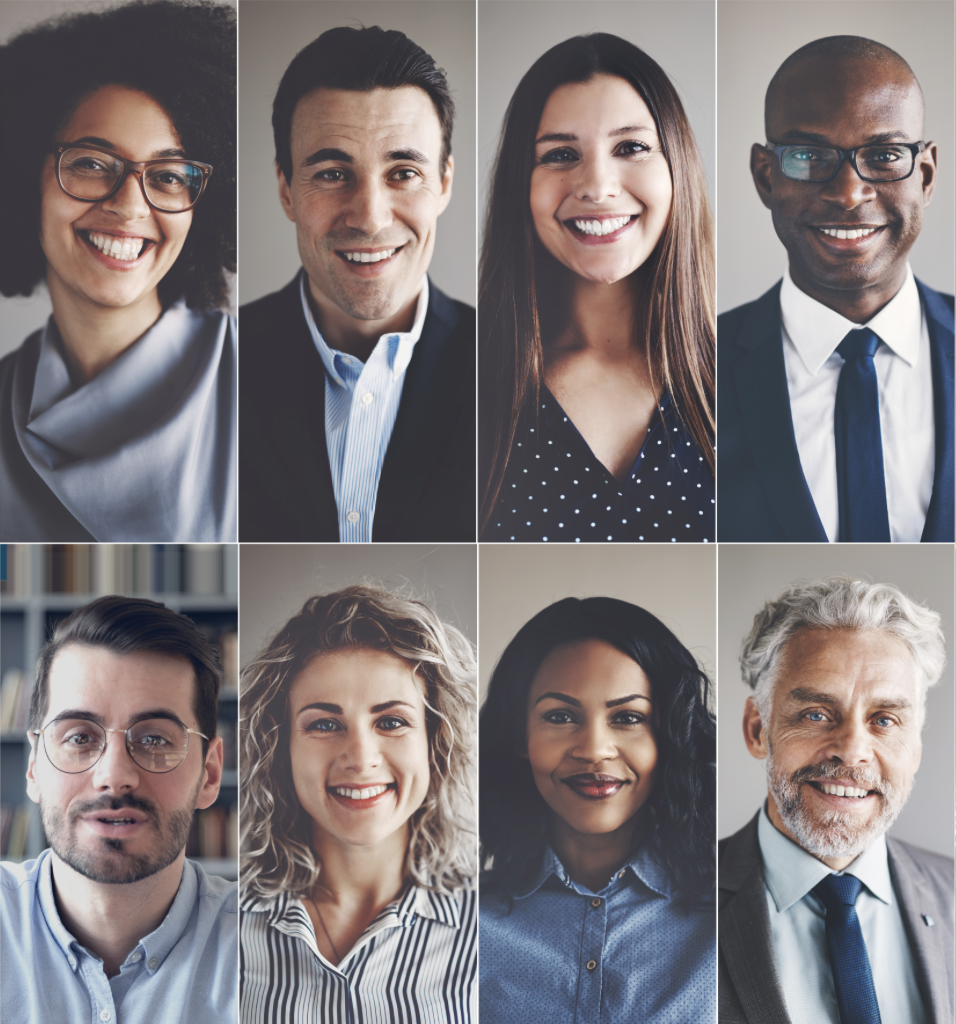 Are you ready to add a powerhouse to your corporate communication toolkit?