The next generation of
interactive live streaming
Add shopping, polls, chats and quizes to your live video
Turn your static video content into an interactive experience with Livery – the world's premier interactive live video streaming platform.
Educate and entertain your viewers with features like polls, trivia, gaming, and leaderboards. Engage with them through live reactions, instant chat, and Q&A. Monetize with ease by adding product offers, shopping cart functionality, and more. 
It's time for your live content to get the active audience it deserves. With Livery, you can seamlessly combine your live videos with powerful interactive features that keep your viewers glued to their screens. 
Not quite seeing what you're looking for? Don't worry. You can develop your own or add 3rd party custom interactive layers to Livery.
easy & engaging Interactive Live Video Streaming Platform
From static video, to dynamic experience
Seamless, integrated interactivity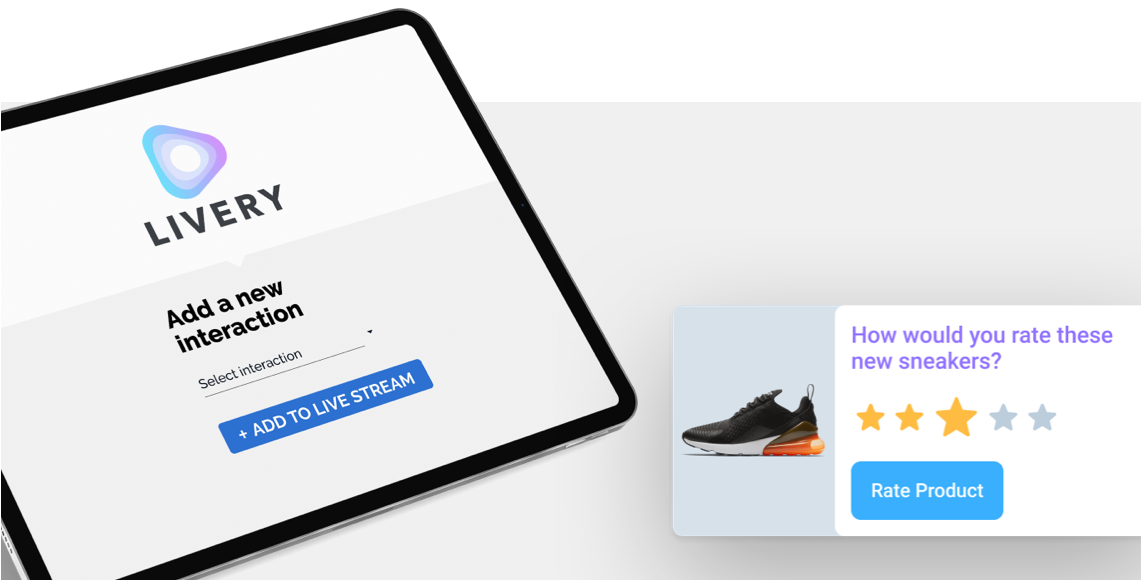 Take your video to the next level with our interactive live video streaming platform. Livery includes data visualization, personalization, and interactivity. Anyone can create interactions with our easy-to-use web-based management system. You don't need additional tools or installation to get started. All you need is an internet browser.
Let your viewers play an active part in your live events. Live events naturally generate emotions and responses—audiences love seeing the action happen in real time. With interactivity added, your engagement will skyrocket as viewers discuss, influence, purchase, and play along with the things they see and hear.
Choose from our suite of engaging interaction widgets. Create an event your audience won't forget.
Powerful interactions, ready to use straight out of the box.
Place them on the timeline within the web-based management system and you are ready to go live.
Communication interactions pack
Say goodbye to broadcasting, and hello to two-way communication.
Give the audience a voice in your live event.
E-commerce interactions pack
Turn your live event into a money-making machine.
Seamless e-commerce interactions, integrated into your live stream to boost your sales throughout the event.
Gamification interactions pack
Take gamification beyond the basic quiz question.
Create a fun and memorable live stream with the gamification interactions pack.
Our pre-configured interaction widgets offer a lot of exciting options and potential, but if you had something else in mind, you can do that too. Livery's interactive live video streaming platform empowers you to build your own custom interactions and get exactly what you want out of your live streams.
All the documentation you need to get started is waiting for you. Go create some magic.
Here are a few examples of custom interactions our channel partners and customers have already built.
A complete game of Bingo in the Hobbii style.
Custom styled, real-time learning app.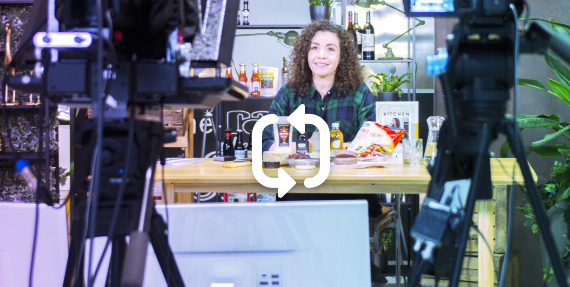 With our presenter view, you can keep a finger on the pulse of the live broadcast. Monitor live reaction activity, tally interaction results, and respond to your Q&A in real time. Make the audience feel a part of the experience as they watch their clicks and taps change what's happening on screen right before their eyes. That's how you deliver an engaging and interactive experience that keeps the audience hooked.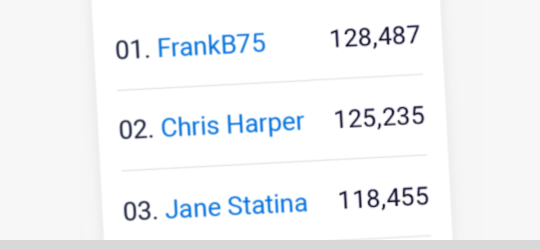 Presenter view: leaderboard
The on-camera host has a real-time view of the leaderboard, allowing him/her to react in real time to build excitement.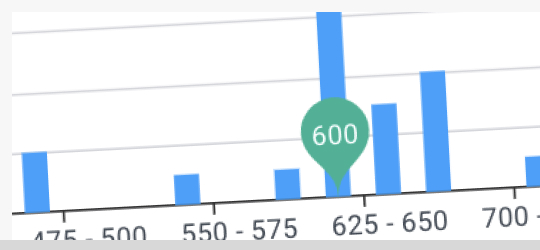 Presenter view: interim results
As the answers to an active question continue to roll in, the host can see and chat about interim results to encourage more people to participate.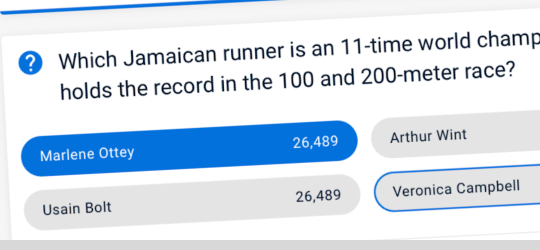 Presenter view: results
Once a question closes, the host immediately receives the results of the question, poll, or rating.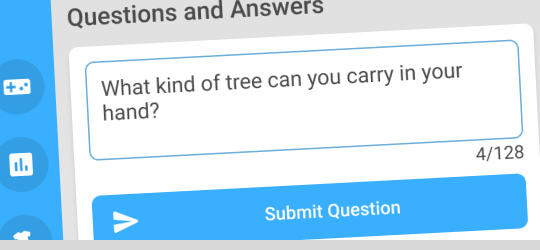 Moderated Q&A
The presenter view also makes it possible to host a moderated Q&A. It allows a moderator behind the scenes to push the most relevant question(s) and answer(s) to the on-air presenter.
Manage it all from a simple dashboard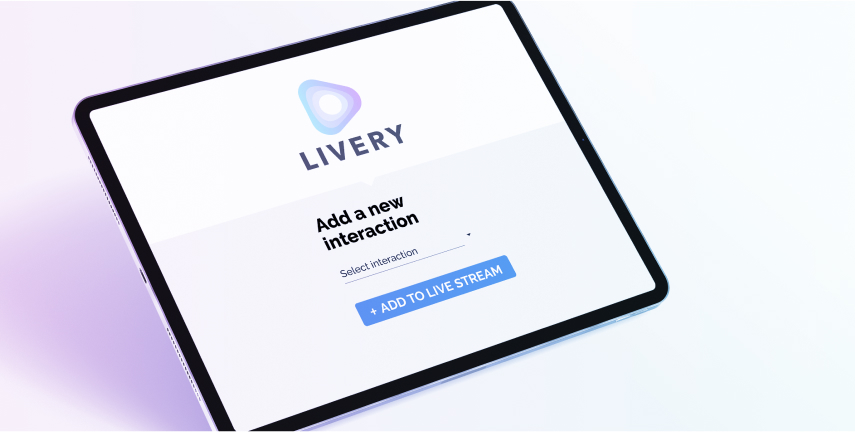 With the interaction timeline, you can easily set up and manage all of your audience interactions. You're in the driver's seat. Whether you're looking to host a closed, selected audience or an open-to-anyone broadcast, Livery gives you the flexibility to tailor the entire experience to ensure that your event is flawless from start to finish. 
Note: Livery Interactive also integrates with Google Analytics, giving you access to all the data you need during and after your broadcast. With dedicated exports, you can easily export statistics and user data, allowing you to fine-tune your future broadcasts and create an even more engaging experience for your audience.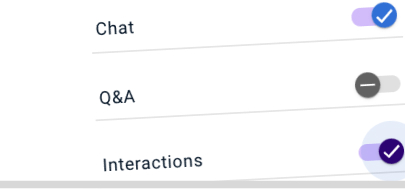 Broadcast management
Broadcast like a pro. Set a start date and time, enable your favorite features, set a promotional image, and enrich with interaction elements.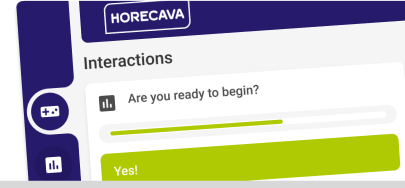 Customize your theme
There's always room for branding. Customize your stream's appearance with colors and logos to make it feel just right.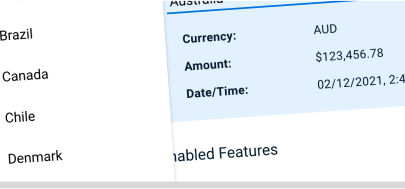 Locale & currency
We support streams around the world. Simply select your locale to set your date format, amounts, and currency.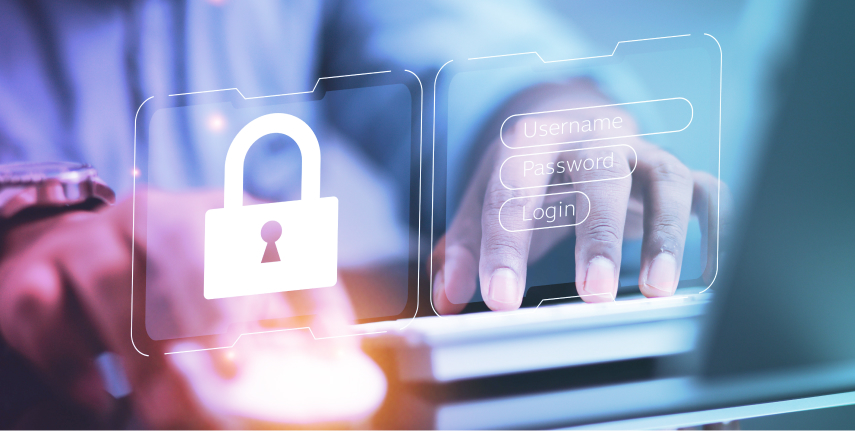 With our flexible login and authentication features, who you invite and what information you gather is completely up to you. Whether you're looking to gather detailed demographic data or simply streamline the login process, Livery has you covered.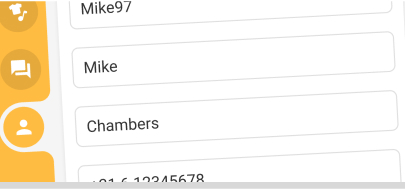 Define your login fields
Choose what information your viewers need to divulge in order to join your stream.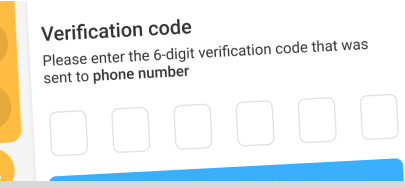 User verification
With this feature, users log in and verify themselves through a functioning e-mail address or phone number.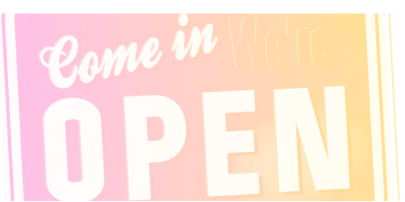 Frictionless login
Integrate Livery into your website. Frictionless login makes it so viewers only have to log in once (on your site) in order to participate in the stream.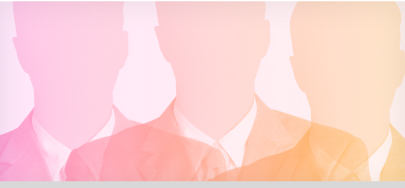 Anonymous users
With the option to join anonymous, viewers can try out a session easily without providing personal data.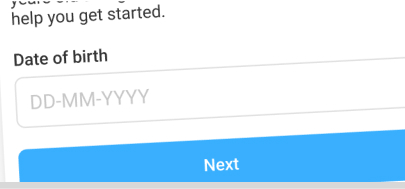 Age check
Prevent users under a certain age from participating in the live interactive event.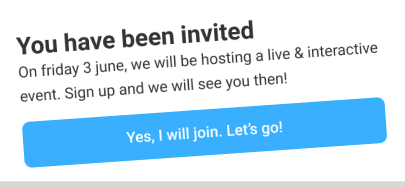 Whitelisting / audience groups
If you'd like, you can restrict access to your stream, so it's only accessible to a select group of people based on individual e-mail addresses or full domains. This is perfect for use cases like pay-per-view, internal team training, and more.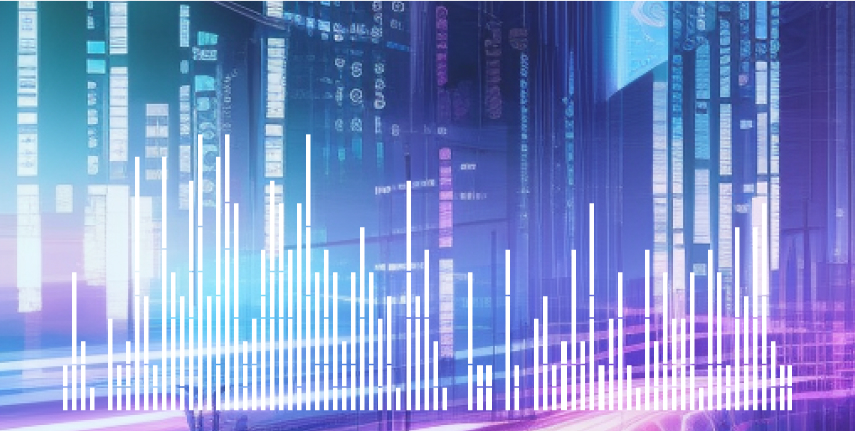 We've created a platform that lets you plan and host livestream events that are 100% yours. You get to keep your audience and customer data – not us (psst… our competitors can't always say the same). 
You have the power to unlock the full potential of your data (and with livestreaming – there's a lot of it). Whether you're simply interested in a data overview based on your viewership, or looking to run a more granular analysis of your viewers, Livery gives you everything you need. So why settle for less? 
Make your data work for you and take your livestream events to the next level with Livery.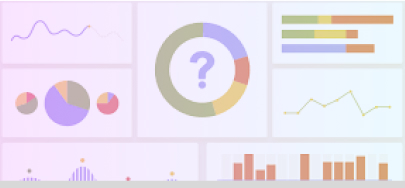 Google Analytics integration
Livery supports Google Analytics, which means you can collect data from almost any action your viewers take in the stream environment.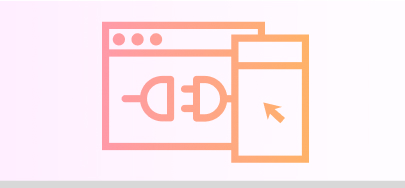 Interaction data API
Connect your system to the restricted API and save data from the broadcast, leaderboard, and almost all user actions straight into your own systems.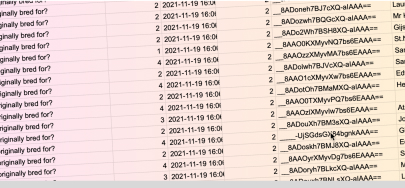 Data export
After the event, we offer easy data export, including:
Broadcast data
User info, including leaderboard ranking and earned points
Chat messages
Q&A questions and answers
Poll, Trivia, Prediction and Estimate interaction data
Rating results
Live video for professionals
Not so much interested in interaction? We offer live video for websites, iOS, Android & Web apps. Enjoy high quality, synchronized, low-latency streams that come at no additional cost compared to regular latency streaming.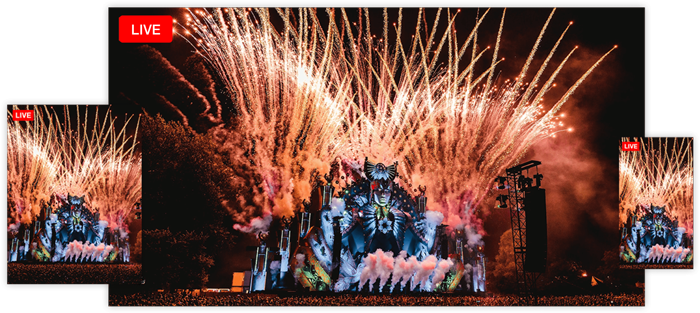 The first Player build for interactivity
The Livery Player is optimized to develop your low latency interactive video project. The player can be integrated in a matter of minutes and comes with a built-in interactive layer. Launch on any platform using the iOS, Android or Web SDK.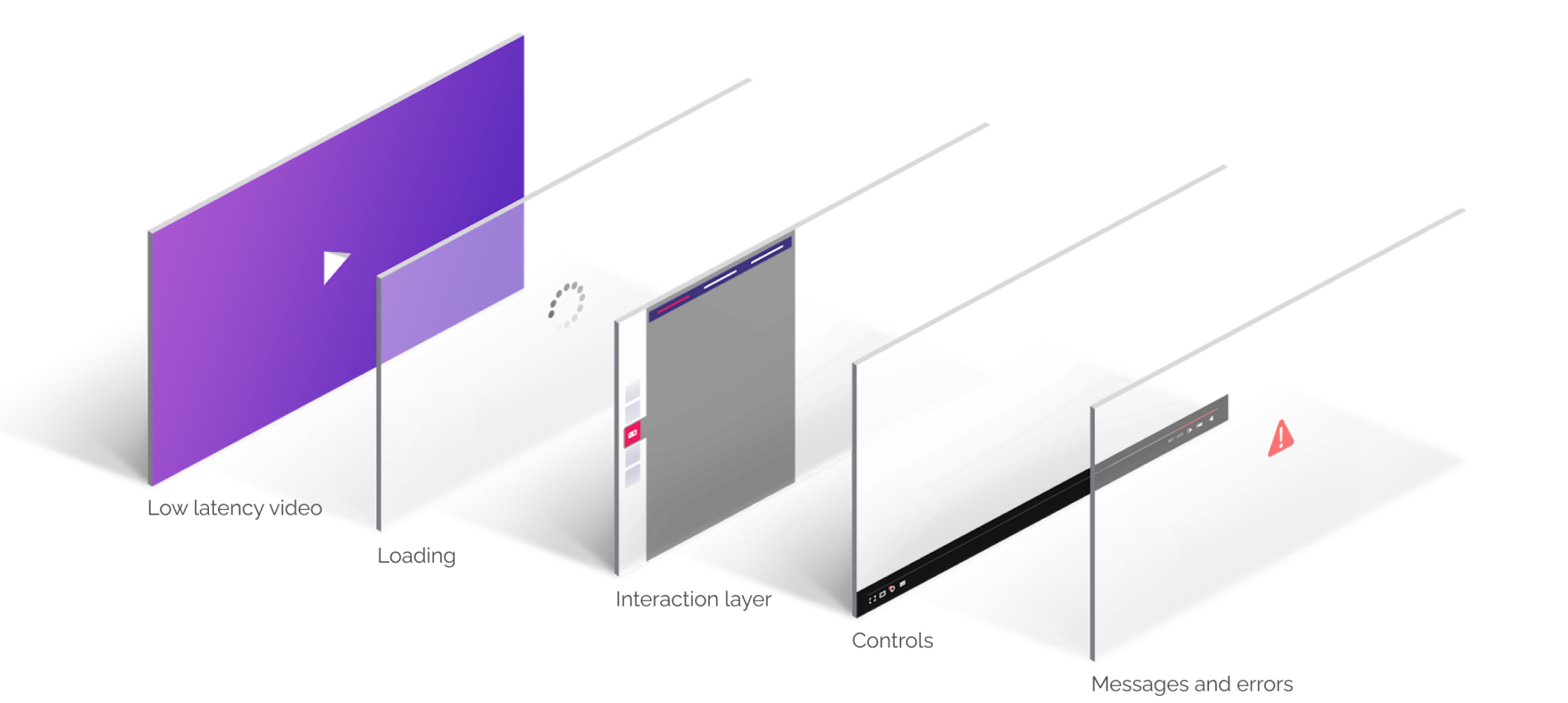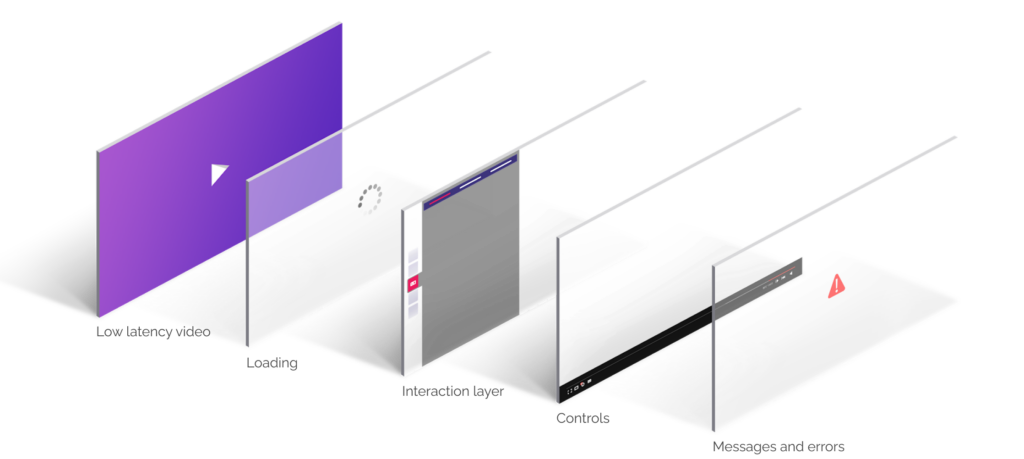 Player features: adaptive bitrate, configurable fixed latency (1-10 seconds), configurable interactive layer, web SDK via NPM, embed web player via iFrame, SDK for iOS Android and React Native, remote player controle (layout, features), interactive Bridge, stream phases (pre, live & post), poster image & pre-roll video support.
Documentation can be accessed on docs.liveryvideo.com Do not hesitate to reach out to us with any questions regarding the implementation of the players.