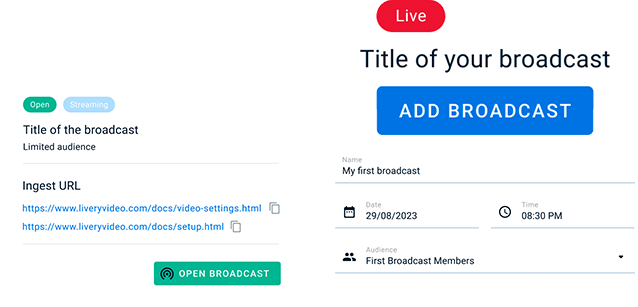 High quality live video: simple and affordable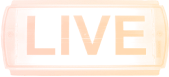 Live video with less than 3 seconds of delay . With all devices in sync, better quality than WebRTC, and scalable up to 100 of thousands.
Your quality live streaming solution that let's you reach millions in seconds.
Livery is  simple, end-to-end, and easy to start with.
High-quality video streams
Live video up to 4K to any audience size anywhere in the world.
Q U A L I T Y
Ultra-low latency and sync
From reality to the screen within 3 seconds, synced accross all devices.
U N I Q U E
Full control over data
Secure and protected live streams. Analyze your streams data, heatmap and more.
S E C U R i T Y
- The Livery Live Method -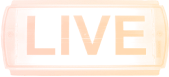 "Live streaming for professionals is now easy and affordable"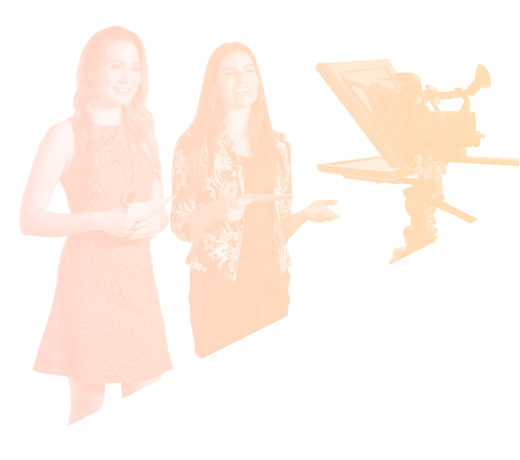 High quality live video with less than 3 seconds of delay from your camera to your viewer's screen. With all devices in sync (so every viewer sees the same frame at the same time). 
With better quality than WebRTC, and scalable up to 100 of thousands.
Thuisgaan - remote dancing event
During a pandemic lockdown, Thuisgaan organized a major live music event powered by Livery for people stuck at home. 12 DJs played back-to-back for 30 minutes each to create a 6-hour ultra-low latency live streaming event.

The high audio quality and bitrate of Livery's streaming platform made it possible to deliver an incredible live music experience to the living rooms of all music and live show lovers.

"Setup was flawless – after plugging in the encoders, Livery tested and ensured the encoding process. Excellent online support gave the on-location crew peace of mind." Cristian Kiesling – Founder of Thuisgaan.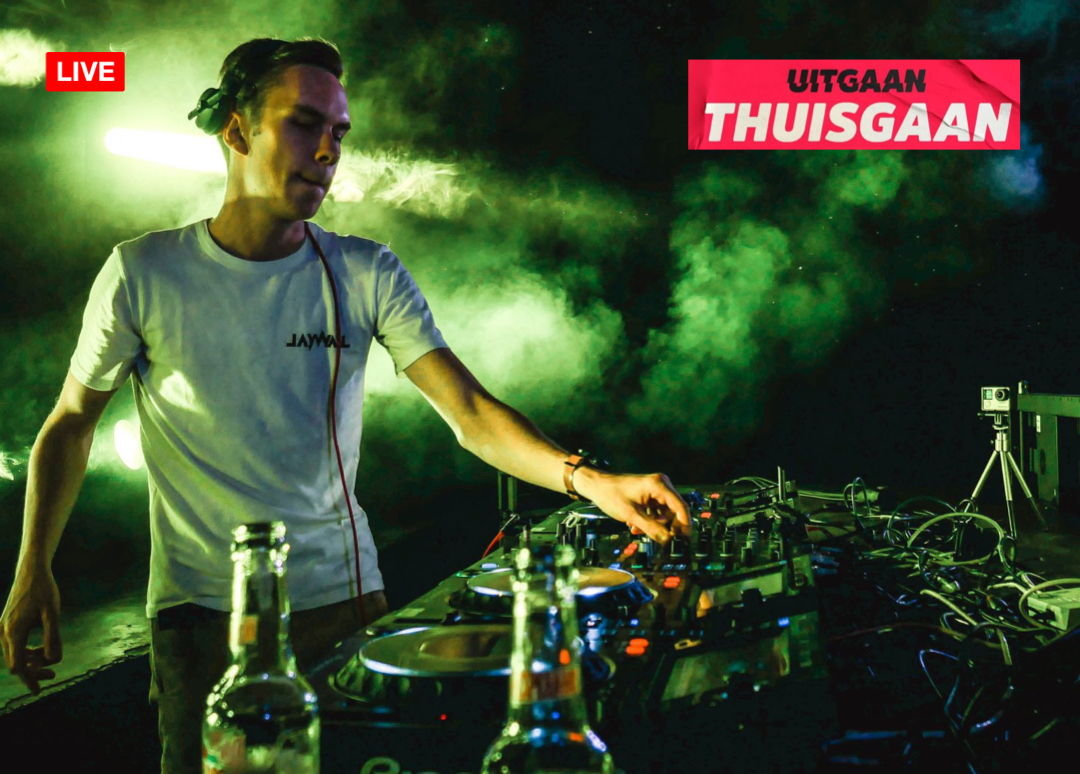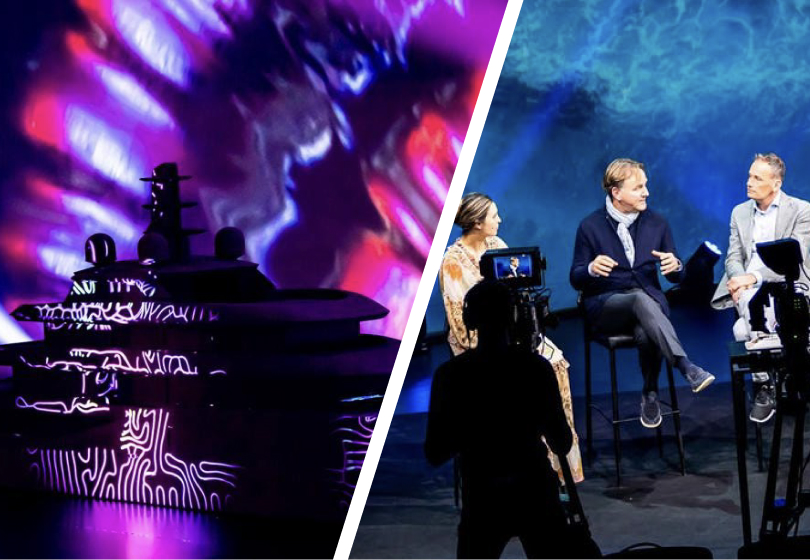 4 simultaneous livestreams showed the highly anticipated digital launch of the new Amels 80 Limited Edition yacht from the Dutch superyacht specialists Damen Yachting.
Clients, journalists and fans from around the globe tuned in live to watch the launch, —in the massive Amsterdam Theater—where the event was streamed out to thousands of people around the world.
"This may be ready to give the undisputed master of product launches [Apple] a run for his money!"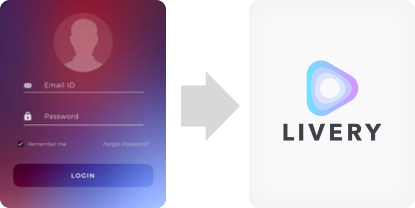 High-quality live streaming
Stream high-quality live video to any audience size
Livery is designed as a "one-to-many" solution powered by the world's most powerful CDN. This means you'll be able to scale to millions of concurrent users and handle traffic spikes with ease. You can't afford to lose viewers mid-stream because your infrastructure can't cope with the traffic. With Livery, there is strength in numbers.
You can offer 4K live streams and Livery's adaptive streaming ensures the best possible viewer experience even if your audience has limited bandwidth.
Consistent quality for every viewer
Latency & sync: stream in real-time on any device
When hosting a livestream, you want every viewer to get an equal experience. That means they need to see the same video frame at the same time.
Ultra-low latency and synchronization bring your streaming services to the next level. With Livery, your livestream can be faster than live TV. But it also doesn't have to be, if, for example, you want a bit of buffer room to smooth out errors, or to stay in sync with a corresponding TV broadcast. You can choose the latency that fits best your live video experience.
Your viewers can log in from any smart device anywhere in the world without missing a beat.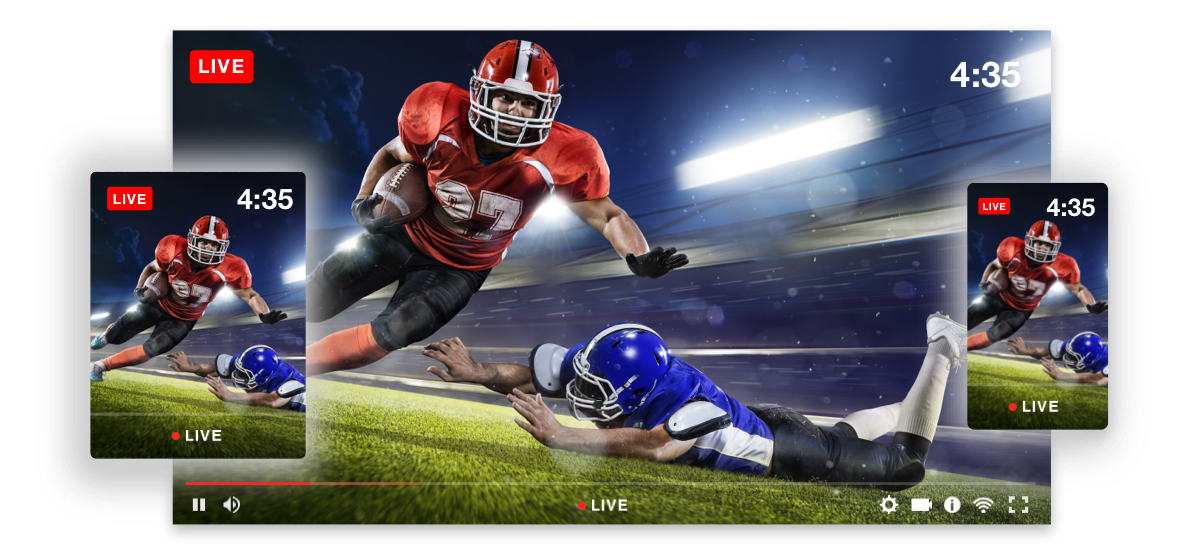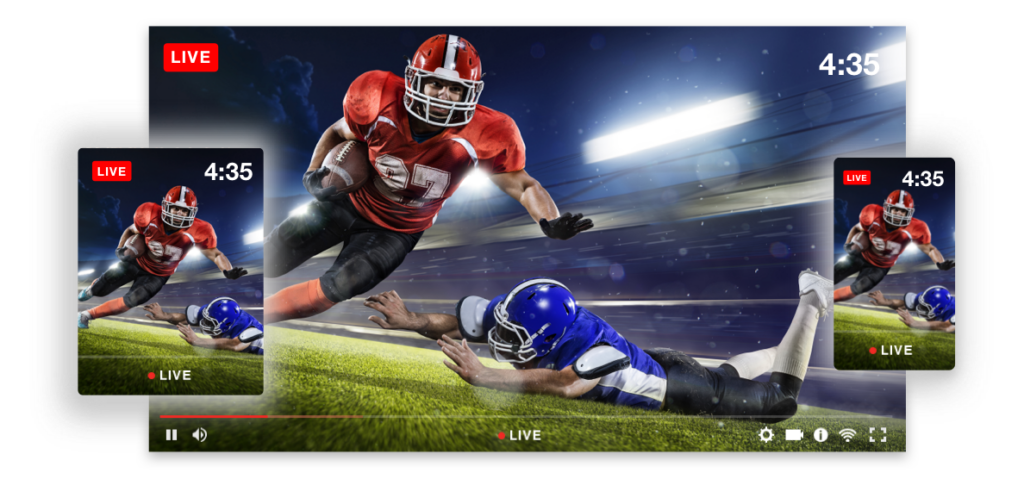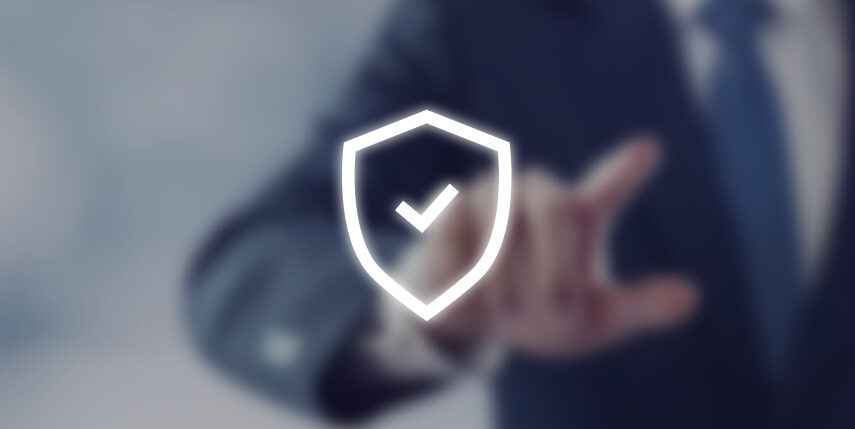 Stream secure and monitor in real-time
Security is an essential aspect of live streaming. Besides our built-in security features, Livery provides additional ways to accommodate your security needs. You can optionally activate IP whitelisting, domain whitelisting,  token & CDN authentication, use stream keys and more.
Our data dashboard gathers information from the encoder, CDN, and player to give you real-time feedback and statistics on the performance of your stream.
We're ready for your app or website
Embed Livery streams into your app or website with ease. Livery supports iOS, Android, and web-based apps. Improve your audience's experience and security by keeping them all in one place – no need to switch to a new browser, platform, or device to consume your content.
Livery provides a wide range of Video APIs for its customers to maximize flexibility. The only limit is your creativity (and coding skills). Check out our technical documentation.
Integrate interactivity in your live video
Livery's interactive experiences run directly on top of your live video in perfect sync with the video stream. This integration creates new opportunities for innovative and interactive video extensions, from live statistics and graphics, to live trivia quizzes, betting, shoppable video and auctions.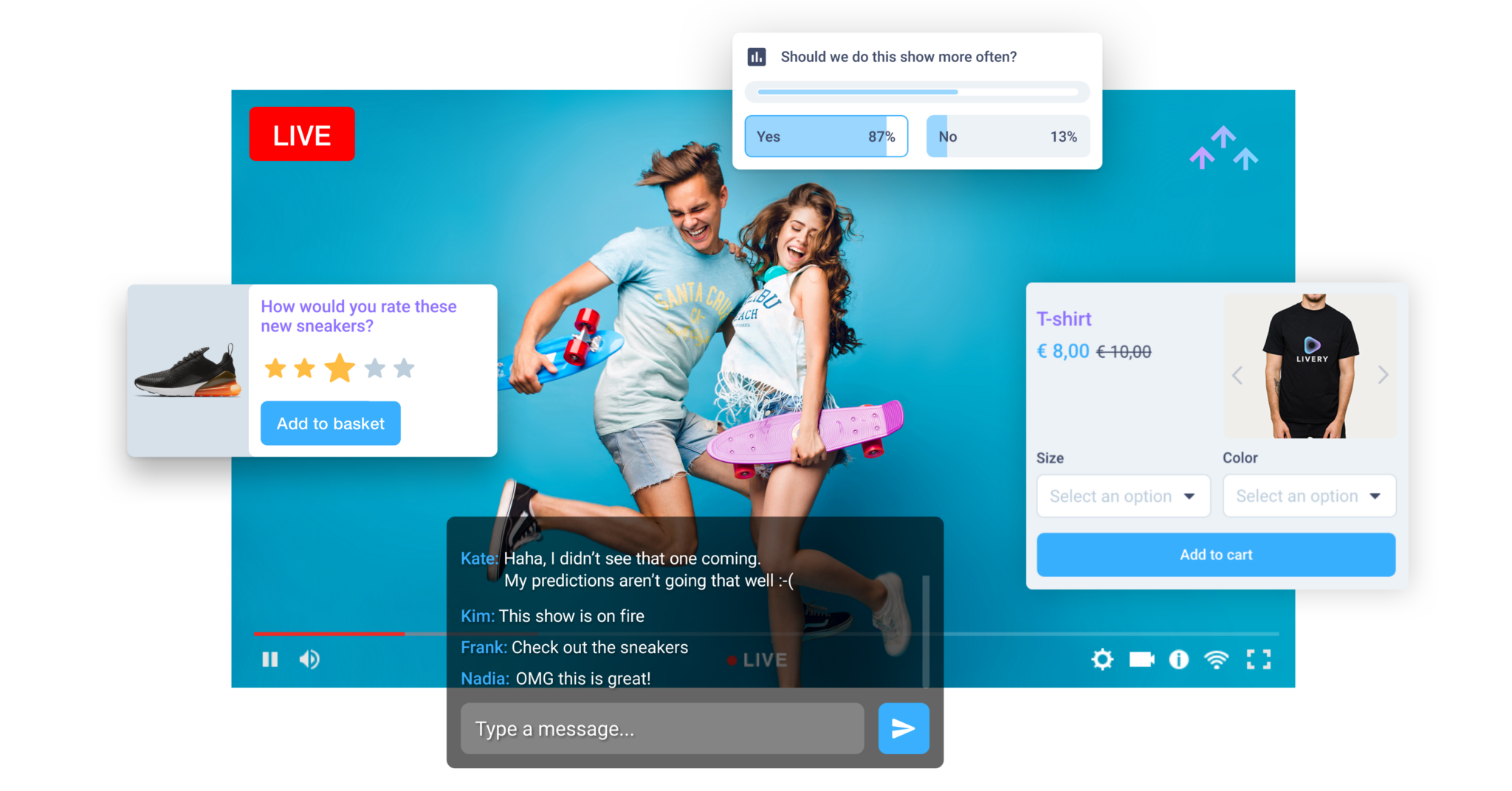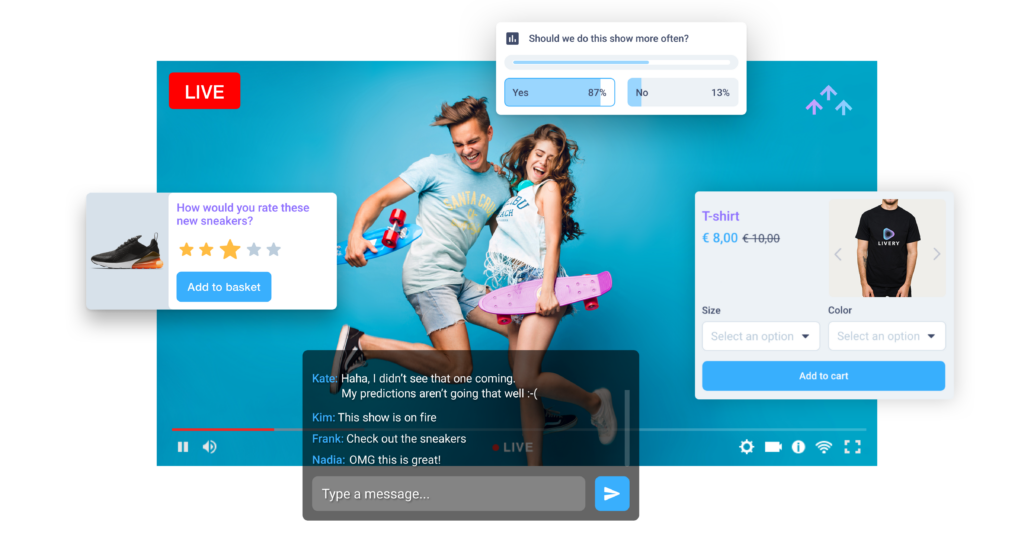 Are you interested in live streaming?
In 20-minutes it will be clear for you how Livery works, and how you can benefit from live gameshows in your business.
Trusted by customers worldwide