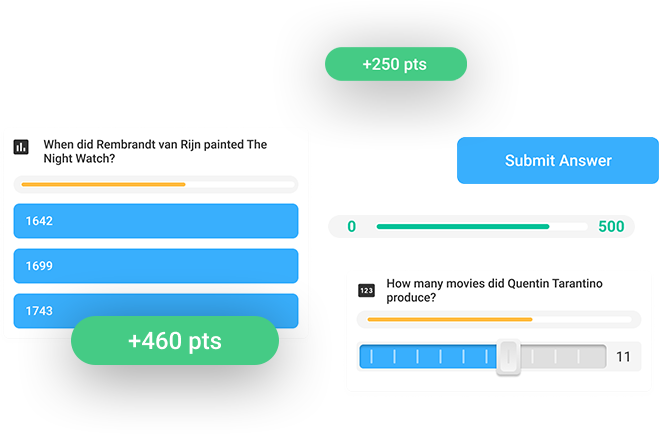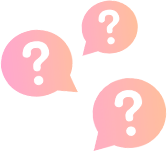 Broadcast your live gameshow
Imagine your live game show, full of excitement, fun, prizes and up to a million viewers at the same time.
Your end-to-end interactive livestream solution that let's you quiz big time for big audiences.
Quality live gameshows in 3 steps
Invite your targetgroup, engage your audience, play and win!
1. Invite thousands
you decide who plays: paid customers, invited players, registered users or everyone
I n v i t e
2. Engage with a quality quiz
excite with great prizes, fun questions and a rich range of interactive elements
e n g a g e
3. Winners and data
instantly see the winner with leaderboard & analyse quiz data afterwards
D a t a
- The Livery Live Method -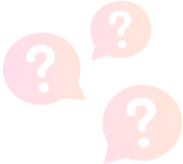 "Making game shows & trivia scalable enhances the larger than life feeling that successful games have"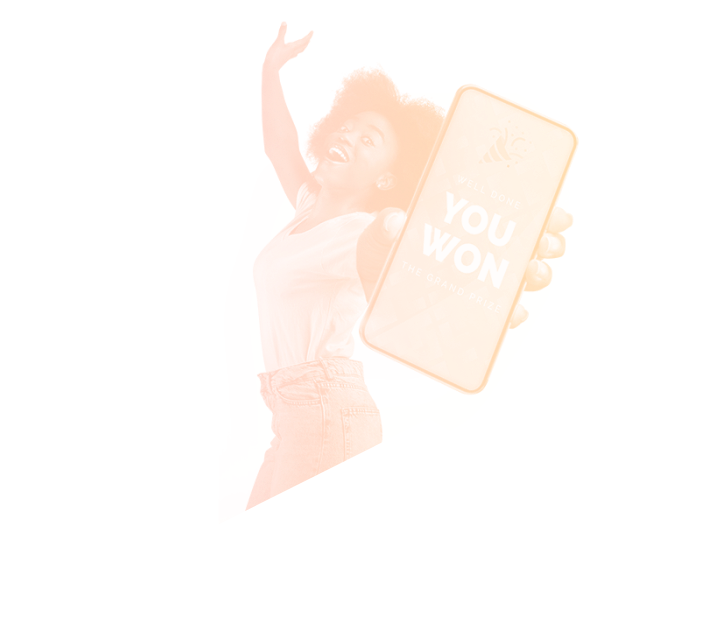 Livery believes in growth, that's why our livestream game shows are scalable up to a million viewers while keeping the latency ultra low.
So it is up to you to make game shows big time and let the thousands of people play along!
Script, storytelling & timeline:
the perfect game show
Design a script & storytelling timeline to engage the audience.
Make use of the wide range of interactivities to create a varied show.
More about the 'Livery Live Method' and how to build a perfect game show can be found in our blueprint.
Lift Kvis is a popular live game show app in the Eastern European market. Thousands of players tune into its four games per week to win cash prizes. Lift Kvis has chosen Livery as its partner to provide a secure and stable streaming solution. During the Lift Kvis live game show, the host asks a trivia question that viewers can answer in real time. The host can see the responses, viewer information, engagement statistics, and more on the autocue (teleprompter) and react accordingly without missing a beat. This is a perfect example of a full feedback loop.
"We have searched for a lot of different solutions but none gave us interactivity, stability and quality as the Livery streaming solution. Their solution and their team expertise gives us the confidence to focus on product and content." Nemanja Milic – Co-Founder of Lift Kvis.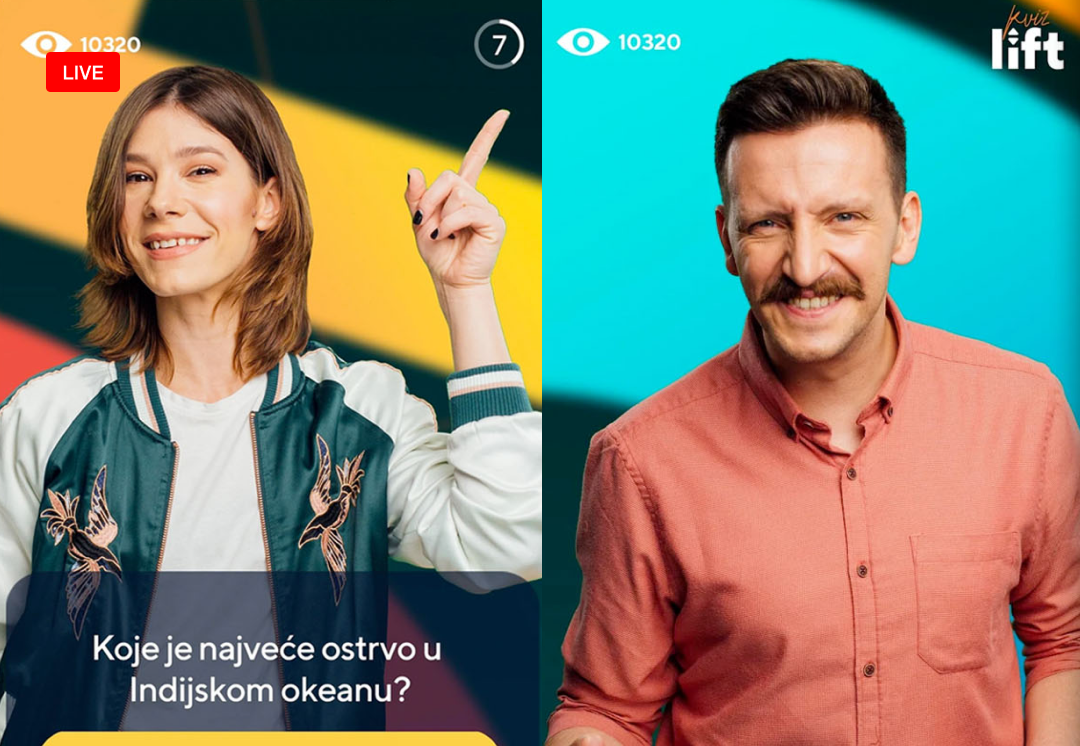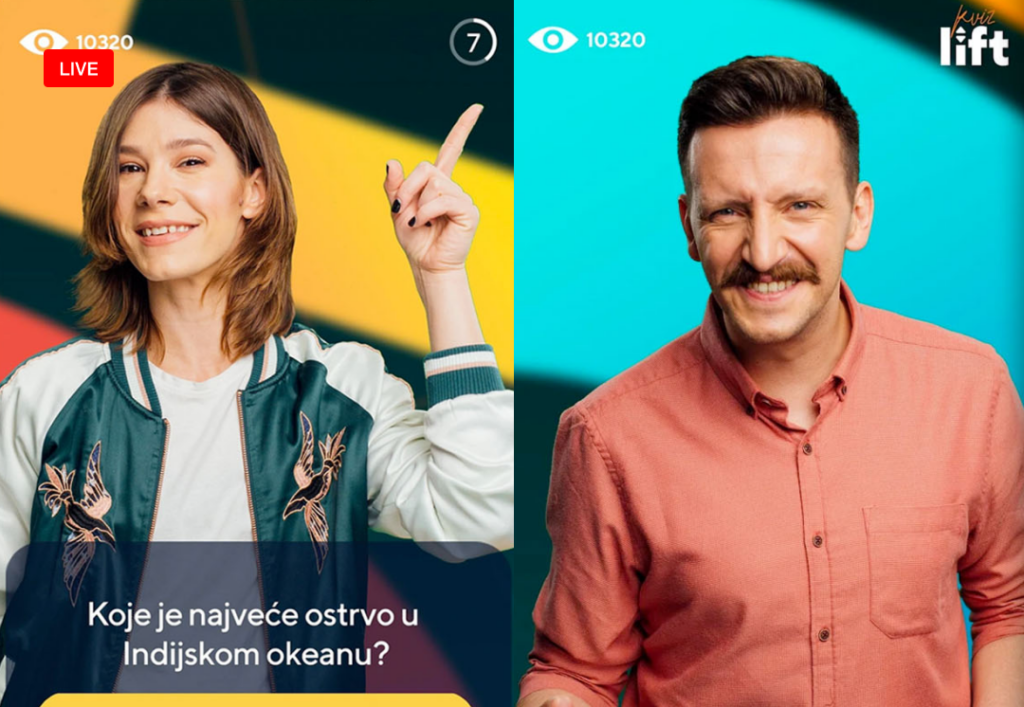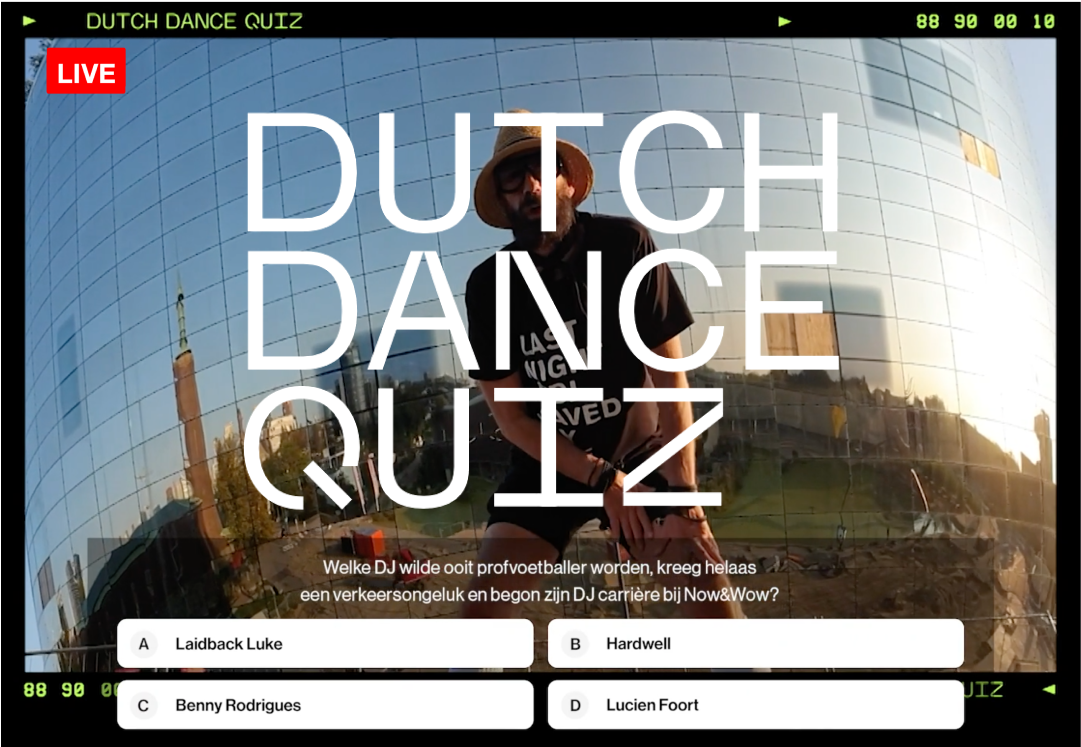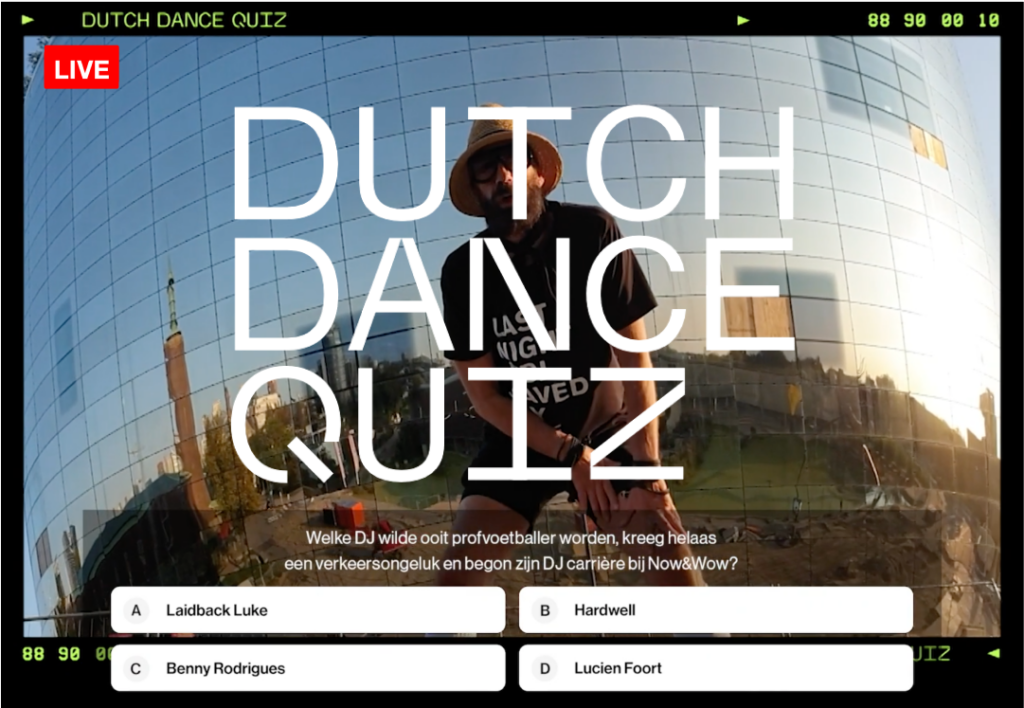 In cooperation with the creative agency, First Day of Spring, we streamed 3 episodes of the Dutch Dance Quiz – a video event that took viewers on a trip  through the rich 30 years of Dutch dance music. Viewers could tune into the quiz at either dutchdancequiz.nl or TV 538.
During each episode, Martin Garrix, Joris Voorn, Chuckie, and Erick E popped questions to the viewers. A panel that included dance industry legends like Dano, The Darkraver, Roog, and Michel de Hey played on-set from the green room. As viewers tuned in to watch, they also got to test their dance knowledge by playing along from home in real time via an interactive 2nd screen and win prizes.
of the 'specialized sponsor platform' category at the annual SponsorRingen event
in the jury and in the expert panel.
With the simplicity of the Livery platform and our full library of interactive features, it is easy to set up your own quiz. Customize interaction elements: set answering time, points earned, time-based points or fixed points and more.
This is just a selection of our interactions…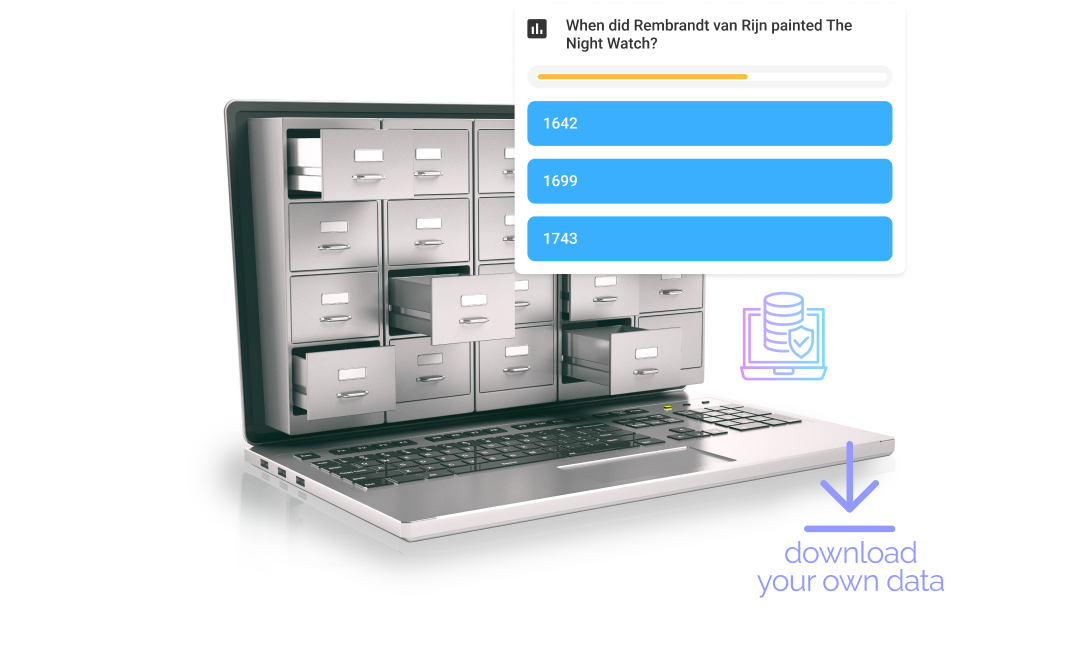 Plan and host livestream shows that are 100% yours. You get to keep the data of your sessions and participants. Analyze quizes to improve your format: Does it work better to mention the prizes after every question or only at the beginning? In which phase did the most participants leave? Etc.
Integrate Google Analytics or connect your system with our interaction data API to make things even better.
For all instream interactive elements we use our ultra-low latency video. The quality of the sound and video image is superb to make sure your gameshow is of high quality. The ultra-low latency livestream supports iOS, Android & web apps, syncs over all devices, scales up to 100 of thousands, and come at no additional cost compared to regular latency streaming.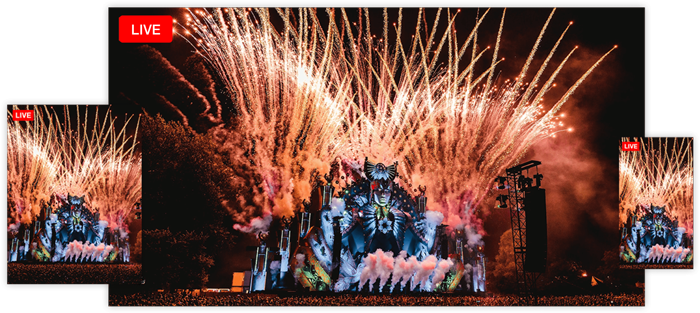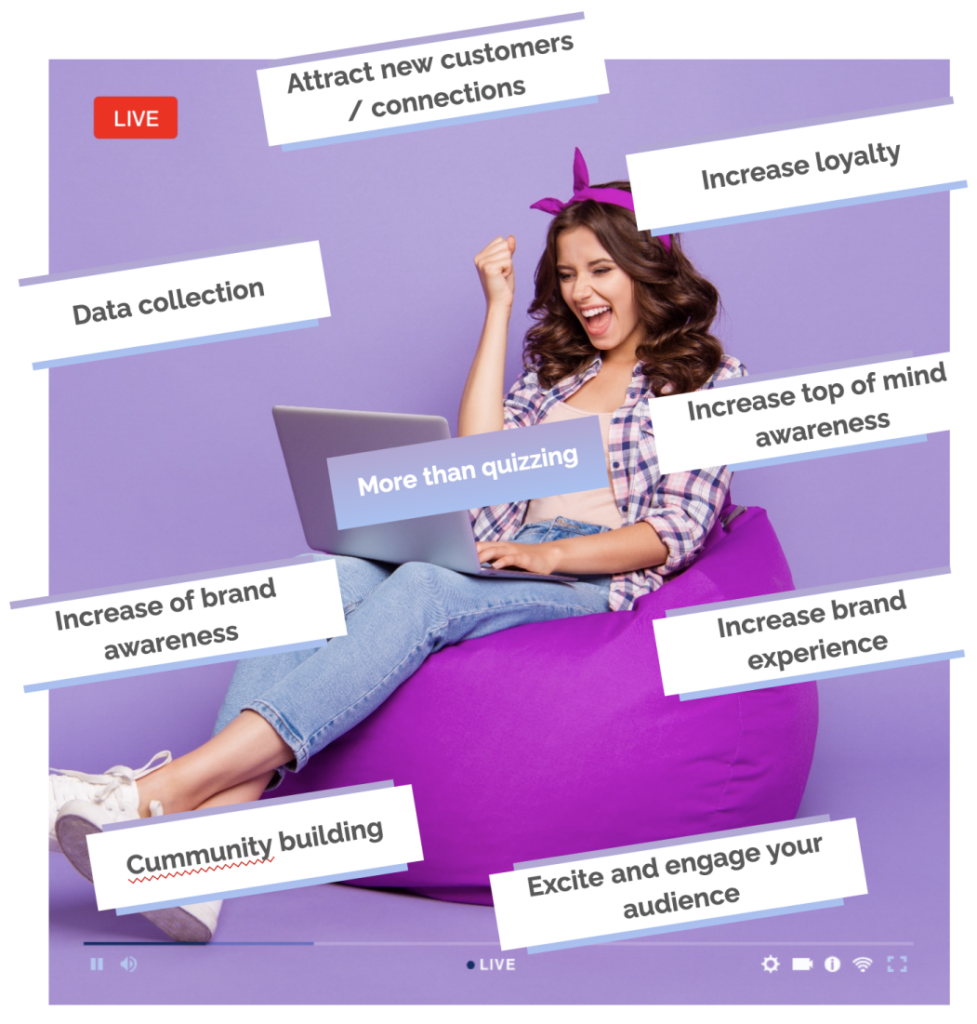 Next to quizing there are additional business goals a live game show can support.
Increase loyalty
Top of mind awareness
Increase of brand awareness
Data collection
Attract new customers / connections
Cummunity building
Increase brand experience
Are you interested in live gameshows?
In 20-minutes it will be clear for you how Livery works, and how you can benefit from live gameshows in your business.